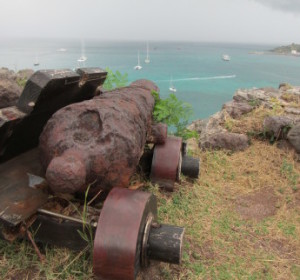 As I sit watching the sun through the eastern facing window of terminal A of San Juan International Airport lifting itself above the tropical palm trees on the skyline, bracing myself against the icy breeze of the over-enthusiastic air-conditioning, I feel in-between things – in no man's land.  What if I'm out of my depth. Should I have made a smaller step rather than jump, both feet into the Caribbean yacht world? The runaway train of automatic thinking had broken loose from its couplings and I remind myself to let them go and return to awareness in the present moment
8 hours is a pretty long wait for a connecting flight but some sleep here, a bit of a read of Hunter S Thompson's Rum Diary there, and a wander over to the window opposite as the sun slides overhead towards the western horizon and the day quietly passes punctuated by safety and security announcements.
After a 2 hour delay, announced in 4 irritating bite-sized 30 minute segments, the final leg to Sint Maarten was underway.
It was dark by the time I had arrived at the yacht club and I recognised Elaine from her social media photos. After brief introductions over a small Heineken we were skimming the water in a 9.8hp dinghy to Glee's mooring on the French side of the lagoon. A quick tour of the boat and a return jaunt to get Elaine back to shore and I was skimming back alone through the anchorage and under the causeway following the same waypoints back to Glee.
I was here; 22 hours since taking off from Houston Intercontinental. What if I'm out of my depth. Should I have made a smaller step… and with the thoughts rattling away out of tune with the wind in the rigging and the water lapping at the hull, I went to sleep.
Morning:
This must be how amnesiacs awaken, I have a vague idea of where I am and I recognise some of these things on the boat but the unfamiliarity with so much at once is disturbing. Just a matter of time is all it is, relax, settle in… I could always sell up and go back to… where? No rush, I have time… and the thoughts recede as I step out on deck and admire the tropical sunrise across the lagoon. I have realised a dream and ticked off a major goal. What now?
I need a plan… no rush, settle in first, I have time…