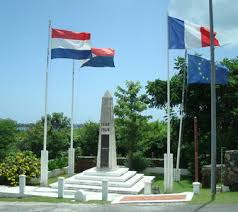 The Traffic was slow enough that the silver SUV could collect me without pulling over. This was my first time on wheels on St Maarten, or even away from the shores of the lagoon. Looking at the size of the island on a map, you would think you could hop on a bike and cycle round it fairly effortlessly.  The roads are more like a roller coaster around the volcanic hills and, with so much traffic, I wouldn't want to risk it on these steep, twisty and narrow concrete ribbons.
The change from concrete slabs to European Union characteristic tarmac signalled crossing the border from Dutch to French territory, as we headed inland. The vacant border monument seems purely symbolic.  Two nations controlling a tiny 37 square mile island… How many governments are needed in one place? In practice, we can cross borders at will.
We were late arriving at Quarter D'Orleans but there was plenty of time to explore the possibilities for the future between Lowlands Community Garden and Eco Vie. It was a pretty short meeting but long enough to see our commonalities and to for introductions.
One of our group invited us back to her home in Orient Bay. From the terrace looking Northeast over the palmtops to the Atlantic, a memory returned, this was a scene of a tropical dream I had carried for almost a lifetime. It was just like this: a table and chairs, a roof with open sides; perfect. And somewhere in the direction of my gaze my friends and family were sheltering from the cold, British rain.  It hardly seems like the same world.
During dinner and wine to lay on top of my Little Jerusalem shawarma from earlier on, I realised that none of us shared the same nationality but we all shared something that transcends borders. I can't explain it yet but being here in this place, with these people just felt easy.
If there is a secret to life it's trading the familiar for uncertainty. As tempting as it had been for me to make an excuse to stay on Glee because I wouldn't be able to row back against the wind. I would have missed this particular experience forever.
Taking the northern route back to Simpson Bay meant that I had completed a lap of the island. It was past 11pm by the time I was dropped at Palapa Marina and I was now standing looking down at my dinghy with the stale pop tunes blasting out of the neighbouring 'Soggy Dollar Bar' to a handful of souls that looked either bored, drunk or tired of their search for meaning.
The wind was still keenly out of the Northeast, I couldn't stay here, it was warm enough outside but too noisy and too busy, The plan? The night was young, let's get some exercise and row out into the wind and if it became too exhausting then change course for Cole Bay and either stay or hitch a ride from Lagoonies Bar.
Once you start rowing against the wind, a 10 second pause will undo 20 seconds of rowing. I fixed my light and set off for a marathon Gym session on the inflatable rower. I could see by the position of the masts of the boats in the anchorage that I was making headway be it slowly and I was settling into a rhythm against the short choppy waves when I saw another dinghy deviating out of the channel and heading my way. He was a young guy running a charter boat on the French side on his way back to his vessel and offering a tow back to Glee. He'd seen my light and came out of his way to see if it was anyone in distress. As it turned out, it was me, no more distressed than normal but very grateful for the tow.
I was back to Glee earlier than I expected. I had needed nothing from my bag. What looked like a mini adventure from the outset turned out to be an evening that could hardly have been planned better; all down to perspective… If I wasn't so full, I would have enjoyed a beer on the deck to complete the experience before turning in but that's OK, the wind rocking me to sleep was good enough.