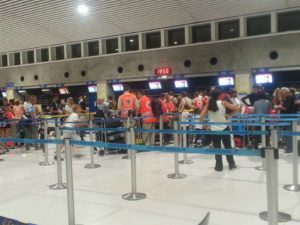 6.00pm Pointe a Pitre airport, Guadeloupe. Two hours at a cafe table on hard seats surrounded by luggage and bustling, baggage laden itinerants is not a recipe for peace and tranquillity. Patrick was getting edgy and already wanted to join the queue that was beginning to form at the suspected check-in line. Lucy and Patrick had been falling out rapidly the last few hours. The uncertainty we were experiencing was morphing into stress. Vanessa and I remained placid and Patrick went to join the queue clearly irritated that none of us showed any sign of following. Standing for an hour or two isn't too appealing for me and I remained seated with Lucy, while Vanessa diplomatically joined Patrick in the queue.
Around 7.30pm, some list wielding administrators bristling with highlighter pens appeared at the head of the queue and people started filtering past their new check point and toward the check in desks. Lucy and I collected our bags and joined the queue about six feet behind Patrick and Vanessa with about 5 people between us. My name was quickly found on the list, checked against my passport and I was politely waved through. Lucy's name wasn't visible. No Cooper on the list. Cooper, Cooper… No… no Cooper… Lucy's heart was in her mouth. It still hadn't appeared by the third time of scanning a finger down the column. Lucy retained the presence of mind to scan across to the first name column next to it… her official name, Thomasin, there it was. Thomasin Coter… a typo lost in translation. A quick cross reference of the passport number confirmed the error and she was waved through too, and we all eventually met up with Pat and Vanessa at the departure gate cafe and relax best we could. "There won't be any food on the flight, better get something here." Pat told us. Looking at the prices in the airport, I'd rather starve, if that was even a possibility of recent sumptious living at the Ben Haddou's. It was past 9pm and judging by the last couple of weeks, departure could be between 15 minutes to a few hours, only left to our imagination and patience.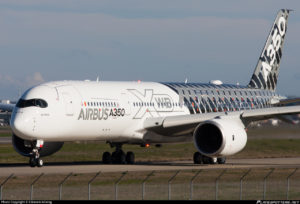 Peering at the plane through the windows into the darkness revealed no company markings I had ever seen. Airbus A 350 X-WB was it's markings. A black and grey chequered tail with a giant A350 painted diagonally up it. I hadn't heard of the A350. Boarding revealed an area of missing seats, masking tape and the aroma of new upholstery like a new car. This thing was straight out of the factory. A demo model, perhaps, that pilots could take for a spin…
Patrick and Vanessa took their seats and Lucy and I ended up about six rows and a toilet pod behind them, including the three of four missing rows across the empty space in between. No grand parting. this would be the last contact I had with Pat and Vanessa before they disappeared into the Parisian landscape. This was a wide-bodied jet similar to the 777, nine seats across, and I was in the centre. The flight crew were more numerous than usual and wore no common uniform – perhaps they were volunteers, I don't know. I'm grateful. As an evacuation, this was pretty luxurious.
Getting tired when we were established at altitude, I dropped the table tray, rested my head on my arms and fell asleep only to be awoken sometime later for an in-flight meal. I was too tired to notice whether I was hungry. Eating was something just for something to do as much as anything else.
Sometime later, breakfast was served and we eventually touched down at Paris Charles de Gaule. It was daylight, maybe noon, one,… I don't remember. An official came to check our forward journey plans. Pat, Vanessa and Lucy all had theirs but I had not. Lucy had a plane to catch in a hurry and left straight away along with the majority of the passengers. I was instructed to wait for someone from the British Embassy and to stay in my seat.
Lucy had become my closest companion since the hurricane and her presence had worn away my skin of solitude and her leaving left a graze of loneliness. That skin would have to grow back in its own time, I had other things to do. Things were getting back to normal fairly quickly and I had to keep moving forward. I'd be home soon, family and friends. the book of life had suddenly flipped to a new chapter before expected.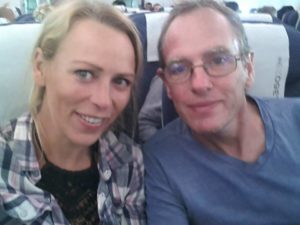 After about ten minutes with a dozen or so assorted passengers that were experiencing various states of anxiety, I was asked by an official what I was doing still sitting there and promptly ushered off the plane into the Croix Rouge centre. A Parisian 13℃ is quite a drop from the 28℃ of Guadeloupe, especially donned in flip flops, shorts and T'shirt.
Milling around the distressed families in the Croix Rouge centre, a volunteer asked what my plans were and then told me to go to Terminal 2E or 2F where I could get a train or flight. Sorting through a jumble of clothes, they found a jacket three sizes too big for me. That with shorts and spindly legs made me look like a giant chicken. I didn't care, the jacket was warm and I could carry my passport in the pocket.
This was the end of the line. It became clear that I had fallen off the edges of the evacuation. My route to the UK was now up to me and that was OK. I was alive and still had all my faculties. Indeed, I was lucky.
Airport Information told me Eurostar would be the cheapest option and pointed toward the Gare Aeroport. Patrick and Vanessa were already taking the 11pm bus. Lucy was probably already boarding her Exeter flight, if she made it in time. I checked the Eurostar fare online rather than trek down to the railway station, €210 not worth the effort, maybe that was a mistake and should have padded my way down to the station and ask. Skyscanner, Easyjet: all three figure sums.
The Air France office was just across from the public desk I was using. €80 departing at 4pm and since it was already 2.30pm, I could check in at the same time. Did I really want to wait nine hours for an overnight bus to arrive in London just as the city was waking up? Normally I would, since I could think of the €50 saving as a net-wage for the day. But not today. Getting to family for solace, company and a comfortable bed for tonight would be worth the extra rather than an uncomfortable sleepless night on a bus. I felt both tired and abandoned now: alone, Glee was lost. I was in a 13℃ Paris with a rucksack. Even if Patrick and Vanessa showed up for the same bus. I was done. I bought the Air France ticket.
The security gate at the far end of the hall had no queue and was a standard affair except that I was detained until I downed the water that the Croix Rouge had given me and thrown the remainder in the bin half full of other bottles in case it was explosive. If a bottle made a big bang then how about a bin full? Pockets emptied into trays, boarding pass clenched between teeth, laptop out, money, passport piled in the tray and then passed behind a screen under the gaze of a bored looking security agent, looking out for our safety and probably wondering how he could cover his mortgage with a more fun existence.
The passengers were already at the gate, jostling for position so that they could all leave the tarmac into the sky at exactly the same time. As usual, I joined the queue as the last few stragglers were filtering through. Checking my pockets, there was no passport. I knew it wasn't in my bag but emptied it on the floor anyway. The driving licence wouldn't cut it with the airport officials. European Union, open borders but still need a passport. By now, everything I had was over the floor. No passport, or anyone else left at the gate ready to board. I told the agent on the gate about my journey from St Martin and they became warmer in their manner. The flight was already past its departure time but an unannounced delay meant I still had a few minutes. I ran back to the security belt, remembering it was the one at the end meant that I didn't have to check more than one. A glance at the photo confirmed that the one they had in their hands was mine and I ran back to the gate to bundle everything back into the bag and shuffled down the ramp to the plane. There was still a queue at the door of the plane, so I could just stand for a moment and reset myself into the normal course of things. Maybe pretend that this didn't just happen.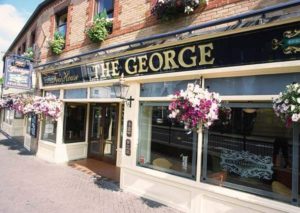 From Heathrow, the bus to Staines was a short wait, and I texted my Aunt and Uncle that I would be in The George. The bus arrived and soon found itself in the evening rush hour queue along the London Road. I disembarked early, as I could walk the remaining half mile faster than the traffic, even in flip-flops.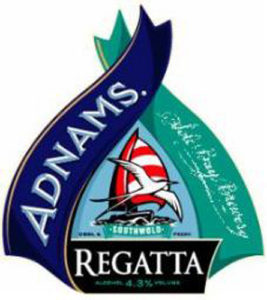 Adnams Regatta with its picture of a sailboat seemed a fitting end to the journey and an appropriate toast to Glee somewhere in the lagoon in St Martin. About a third of a glass down, Margrit arrived with a big smile and gave me a big hug. Terry followed and laughed out loud at how I was dressed, drawing attention to us all. It didn't matter, I was just happy to see them. I didn't really want to return to England but it did feel good to be back, at least for now…