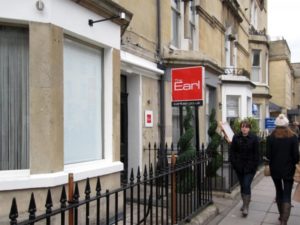 I had achieved all I could in Chippenham. The apartment was secure and I had a lead for Norman the elusive Doorman, a night club in Bath.
I hadn't seen many friends yet, a couple of which were in Bristol. Bath was on the way so 'two birds with one stone' and all that.
6pm on a Monday evening: not the best time of day for driving along the A4 through the centre of Bath but I feel it was time invested well enough to enjoy over in Bristol with Jackie.
The evening was hanging on to daylight as I turned past the cricket ground, across the Avon and left into Manvers Street. Turning down South Parade, there were some roadworks near the taxi rank. My van looked at home in its construction yellow livery next to warnings and barricades. I was unlikely to get a ticket. Walking toward the railway station looking at the door numbers of the subtle frontages had me walk right by Earls. It was closed all day today. In a way I was relieved. I didn't particularly want to confront a doorman tonight; or ever, for that matter.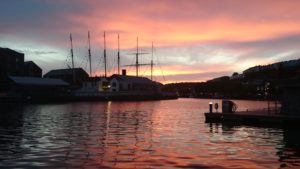 After queueing to get into Bath, I was queueing to get out again. It was dark by the time I got to Bristol and the postcode I was given came to a dead end. I was tired and irritable by the time I'd phoned for further directions. Driving through cities is not as fun as it used to be. I ended up at the City Docks and Dock Estates, a great spot for parking near the Watershed and harbour. And I would be safe from parking penalties until at least the next day.
I made my way to Chapel Street, where I used to drive out of delivering fruit and veg. There are no parking regulations there and I noticed two vans that had apparently taken up residence, judging by the stack of boxes and mess around them. Hippies? I guess I'm one too but I leave no mess behind.
The next day is spent in the Knight's Templar on Temple Quay, soaking up as much WiFi as possible and catch up on what's happening back in St Martin and organise my tour of the South West. There were various people I wanted to visit from Cornwall to Pembrokeshire to Anglesey to Yorkshire. It would take weeks – especially as I had the luxury of time to spend with people. I received a text from Lucy 'Bit of a random one but an opportunity has presented itself. I've been offered a crew spot on a boat delivery from Turkey to Colombia and the boat owner has asked me if I know anyone else that might want to crew… There is one little issue and that is that he wants the journey to kick off from Turkey on 18th October (2 weeks).'
Two weeks, that puts the mockers on my UK tour of friendships.
It was Tuesday evening, time to drive over to Earls. I didn't feel like facing that, or even driving after having just finished a strong beer. Packing up and exiting the Knight's Templar. I looked briefly toward the footbridge that led the way to the van then turned the opposite direction and walked down to the harbour to see Jackie and Aris instead…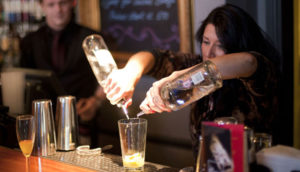 Wednesday evening, my birthday, as it happens, 8.20pm. I park up at South Parade in Bath and walk down to Earls. It's open but there's nobody on the door. I wander in and approach the bar and ask for Norman the doorman. The barman tells me he doesn't know him and he'll get the boss. I decline the offer of a drink with the excuse that I'm driving. Truth be told, the neon glare, cocktails and throbbing din of the tuneless beat are not my style.
"Who wants him?" the owner asks.
"I'm his ex-landlord and I want to know what he wants me to do with the belongings he left behind."
"Ah, Okay…" He looks at the rota on his phone. "He'll be in Thursday 21:45 and Saturday 22:15."
"OK, thanks." and I leave. I'm tempted to spend the night camped out in South Parade as it's pretty quiet for the centre of Bath but returning to Chapel Street in Bristol puts me back in the city ready for morning well before all the parking spots fill up.
Thursday 7:08am and my phone buzzes. Checking my messages, I see it's from Lucy. Lucy and her mother are coming to Bristol today. Would I like to meet up? "Yes, I would" was the short answer to that. There's an authenticity about Lucy that is rare in others. It usually takes time to crack people's shells and really connect with their heart… Lucy has no shell that I can see and I don't know whether she ever had one. It would be good to reconnect.
I needed breakfast and a swim/shower. Breakfast is easy, the Knights Templar is cheap and filling. The rest is a variable. Crossing Bristol Bridge, there are steps down to the water that are bathed in sunshine but the water would be cold and the 2ft climb out would be a challenge. Worst of all would be so many onlookers on the bank and the bridge watching me lather what's left of my hair. Maybe looking like Gollum prepping for a wedding…
I walk on. 10:20am, I arrive at the "Otium Leisure Club," as indicated by Google Maps, for a shower and maybe a swim. The Otium is now the Mercure Hotel Health Spa. I buzz the door and follow the signs down stairs to reception and ask about a swim:
"£15 but there are swimming lessons now so not available for a while"
"What about a shower, I need to meet someone at eleven?"
"Sure, if you're quick and don't go near the pool."
"Great, I'll be 5 minutes, how much do I owe you."
"Nothing, it's OK. Just don't go near the pool area."
To be fair, I was 15 minutes as I sneaked a quick shave and stayed away from the pool area.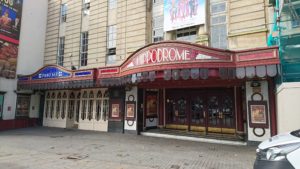 11:00am I was fresh and fragrant outside the Hippodrome waiting to meet Lucy off the Long Ashton Park and Ride. The streets were busy and the sun was warm on my face. The Long Ashton Park and ride doesn't stop at the Hippodrome and Lucy appears as if out of nowhere. Lucy looked very well and somewhat different to the 'hurricane' Lucy with which I'd shared my recent adventure. It was a weird feeling having shared an experience like Irma  and then meeting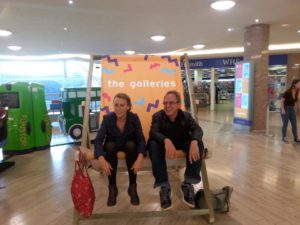 them on more historic ground. Like seeing a favourite actor appear in a familiar TV series. The overlap didn't seem to mesh easily but sharing space with both Nancy and Lucy for the day was a real joy and something of an escape from my current mission.
I arrive at Manvers Street early, maybe 8pm and squeeze the van into a tight space in South Parade. Far too early for Norman the doorman. I text Dunstan who lives on a boat on the Avon.
"Where are you?"
"Ha'penny."
"WTF?…" It takes a moment to remember…  Ha'penny Bridge is the footbridge across the river from the rail station. Less than 100 metres from Manvers Street.
'Purpose' is moored against the railings under Ha'penny Bridge: a spacious GRP river cruiser with a homely interior. We share some hot detox tea and stories of our collective adventures while getting hammered at backgammon.
"One more?"
"No, I have an appointment to keep…"
There is a melee on the pavement outside Earls. Crossing the street I see the melee is for 'Second Bridge,' the sister nightclub to Earls. Earls is actually a cocktail bar. It's 22:15, a half hour into Norman's shift. There are three doormen filtering customers through the door by age, and appearance most probably. Which one is Norman? I didn't have an accurate description. One guy is tall with dark skin, another is short, pale and scrawny with dark hair, which leaves the other: my height but more stocky with fair hair and beard. I think it's him from conversations with Atwell Martin.
"Norman?"
Stocky's head swivels round in an instant.
"Paul, your ex landlord."
A slight moment's pause.
"Sorry you've got the wrong bloke" and looks away.
His ID badge is on his right arm, which is facing away from me.
I didn't anticipate this. How can I be sure it's him? I was too tentative for the easy option and ask him to show me his ID. Instead I do what I do playing chess: think for a very long time. I can see him fidget a little. Silence can be painful sometimes… I still haven't got the next move… I wait some more.
"Can I help you?" Tall guy asks, Tall and his friend, Short-and-scrawny, probably didn't hear our brief exchange over the noise of the music and crowd along the pavement.
"I'm looking for Norman Smith…"
"But he's not in." chimes in Stocky.
"Not in?" laughs Short-and-scrawny, looking over at Stocky…
I get the picture now and ask Stocky:
"Norman's left his stuff in my flat. Do you think he'll mind if I put his things in his trailer outside so he can collect them whenever he wants?"
"I don't know mate, you'll have to ask him."
"Will he be in Saturday then?"
"Don't know mate…"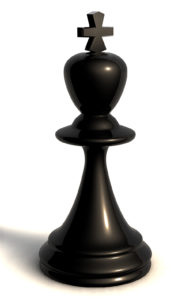 I take his lack of objection as implied consent…
'Check!' his move. and I return to the van…
The next day, Jackie, Aris and I meet at the flat and proceed to empty the apartment contents into the pig-trailer. It would have been a daunting task on my own but with three of us, we were done in a couple of hours with the lock changed too. The trailer had no roof so I bought a tarpaulin to make it as watertight as possible. All that was needed now was a bit of a clean up and repairing a handle that broke off when closing the window. I could do that later. I had issued a verbal notice and taken vacant possession. This felt like a huge stride forward. It was a nice apartment but I'm done with property. Too much hassle and an asset for the state to claw away from you if you fall ill or onto bad times. The game is rigged and I'm not playing a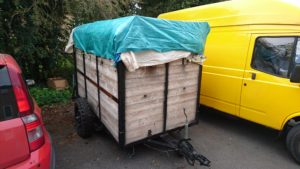 ny more. No, I'd be better off cashing in the equity and chancing my future as a modern-day nomad, on land or sea. I felt freer already…