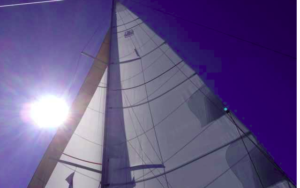 Sometimes you get those "Where the hell am I?" moments upon waking. My bag was at the foot of my bed and I was still in yesterday's clothes with the blanket still folded next to me. I remember, Turkey, Pantelisa, I was on an adventure.
The sun was already up and it was already tshirt weather. Fethiye in October about 18C already.
Toni's the skipper and tells me to check the food and buy what I want extra. I see ranks of closed cupboard doors and hatches and the fridge. The last thing I want to do is go rummaging around someone else's boat on a food hunt. I look in a few assorted cupboards at brushes pans, plates, and food. I look at the multicoloured mosaic of packaging in the fridge and go and buy some peanuts and shower gel.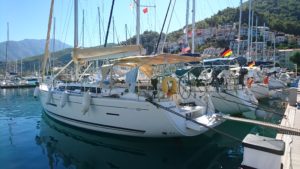 After topping up the water tanks, I head for the showers to be called back before I reach the block. Apparently we need to check out in a hurry. Someone has been waiting at customs for a us a while. We have to go by dinghy as the office is in a secure bonded area inaccessible by land. We have to exit the marina and follow the outside of the pontoon back to the port. If the outboard were to breakdown it would be here, the furthest point away from both Pantelisa and Customs, which it does. We paddle to the pontoon and walk back to the quay and borrow a speedboat.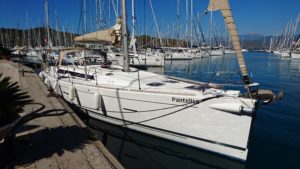 Returning from the showers, Toni says "Do you want to go out for something to eat for lunch or shall we go now?" I say that now's OK with me. After all, I was here for the voyage.
It was gone midday but when we departed was pretty much irrelevant as we would be sailing through several nights anyway. It didn't matter when night came along the way. Half a mile out, we notice the autopilot wasn't working so we swing around to the dock. The autopilot is virtually another crew member. One that never gets tired, eats, drinks or complains and has a steady hand on the helm. It's a shame he's blind though as otherwise we could leave him in charge.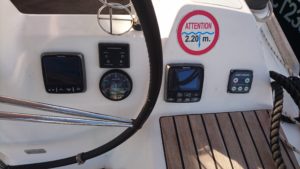 The Raymarine engineer was due in half an hour so Toni suggests we go to the restaurant for lunch. Fajitas and a beer on the waterfront at Fethiye; I've had worse problems. About an hour later, with the problem traced to a loose relay, shortly after 2pm we were heading out. This was it, the first step in a 7000 mile voyage.
I'm still in discovery mode. Every skipper and crew has different ways of doing things. Some are strict and regimented, others are more easy going. I liked the casual and relaxed feel here. There was next to no wind but we expected it to pick up in a day or two. The weather never stays the same for long in the Mediterranean.
The watch rotation was informal. Sleep when you want and wake someone up when you feel tired. This sounded great at first but in reality I never really felt off duty and I tried to find my own slot in a regular part of the night watch to try and maintain a regular sleep pattern. Otherwise it is a long boring stint in darkness, from dusk 'til dawn, looking out over the sea for lights and squinting against the glare of the Automatic Identification System plotter screen(AIS). Then the morning comes and I catnap through the day until night again.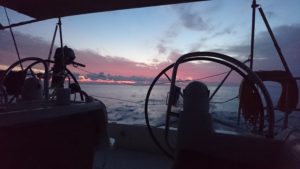 We had no radar but AIS seems so well established now that almost every vessel is visible on it. That and a constant lookout would do us fine. What was that over there about half a mile away? some lights of a yacht look to be coming close. I check the AIS. A Cargo ship 7 miles away. Distances are deceptive at night. When I settled in, I'd read my Kindle on my phone for five minutes then check around and see what's on the AIS. Still it's pretty unnerving steaming ahead into inky blackness.
On the third day, the weather is warm and calm and we were motoring far more than anticipated. We decide to make a slight detour and dip into Neapolis on the Greek coast to top up on some fuel. Just as we moor up a Coast Guard official approaches and insists we check into immigration and customs. We only needed a splash and dash and try to appeal to his common sense. We couldn't find any. I hadn't even stepped off the boat so still never physically been to Greece. He took down names and passport numbers in his little book and released us on condition that we would go directly to Kalamata and clear in, paying the customary fees.
For what purpose this pointless bureaucracy for the sake of some fuel? Escaping from this agentic, power hungry drone, we rounded the southern point and switched off our AIS so that the Coast Guard could't pick up our Westerly track away from Kalamata. We didn't expect them to follow but we were checking behind us for a couple of hours anyway.
The sun was w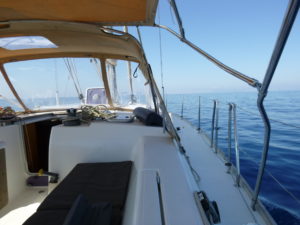 arm and the sea was flat. A little wind picked up early on but it was on the nose and it soon exhaled with a wispy sigh again. At dinner, we considered we had been neglecting Neptune. Some beer splashed into the sea as a toast and maybe he would smile upon us tomorrow.
Day four, we had been motoring almost constantly day and night. Whatever wind there was, it was a but a flirting breath on our faces. The fuel gauge had been showing full for two days and now it was beginning to plummet. We stopped the engine and Toni and Rolf checked the tank. We had about 20 litres left in the tank and a full 20 litre can in the locker. We estimated 3 litres an hour so maybe 14 hours left. We had another 2 days to get to Sicily.
A decision was made. We would motor until the tank ran dry…