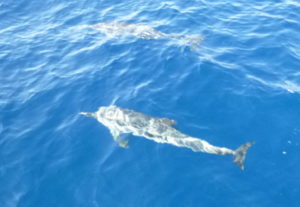 We were three or four hours into our 20 litres. Less than 2 gallons left, in old money. Wind was forecast for the afternoon but hadn't come out of hiding yet, so we plodded on at reduced revs to conserve fuel. Dolphins came to cheer us on and went on their merry way. We needed more wind or more fuel, either would do: we weren't fussy. The forecasted wind hadn't come and there was no hint of any on the horizon either.
Almost dead ahead, just off the port bow coming towards us, a tall thin vessel was heading our way.
"Looks like a sailing vessel." I said but the AIS indicates it's further away and much larger than I think. Toni checks the AIS. It has the name "ITS Alliance" but little other detail. He shrugs and says "They can only say no…" and goes below to the VHF.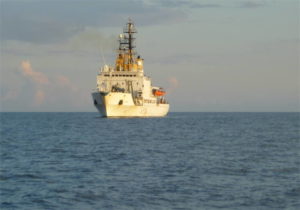 Above the murmur of the engine, I hear only the response from the vessel.
"This is Italian Military Ship Alliance!…"
We've gone and hailed a warship?
Toni is a pretty good English speaker but the Italian radio operator was having trouble taking down details so I was conscripted as Pantelisa's own radio operator.
"What is it you require?"
I relay Toni's request, "Eighty to a hundred litres of diesel, to make the port of Catania."
"Eighty two hundred litres of diesel?"
"Negative, one hundred litres of diesel."
Then we go through a series of bureaucratic questions, not my favourite topic; I prefer ones on science or eighties pop-music…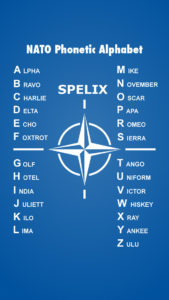 The phonetic alphabet was a distant memory from my early days in the Air Training Corps back in 1978, rekindled by living on Glee in St Martin on the VHF. While I'm pretty fluent in reciting it sequentially, random order is a bit more of a challenge. What sounds like deliberate measured pace and clarity over the VHF hides frantic memory retrieval activity in my neurons "Paul: papa… alpha… uniform… lima. The port of Fethiye: foxtrot… echo…" etc. After the information is relayed we're asked to stand by.
"Shall we heave to?"
"Please, stand by…"
We maintain our course and speed of 4 knots and watch Alliance pass a half a mile away on our starboard beam at 5 knots. Looking at the AIS, we see Alliance begin to change course to round on our stern but she's only doing 5 knots and she is now three quarters of a mile away. We cut the engine and drop our sails. If we were receiving assistance we wanted it before dark.
The VHF hailed from below. "Please stop your engines and everyone stand clear on the bow."
We shuffle over to the bow and watch the orange rigid inflatable boat (RIB) get lowered over their port side and into the water.
The RIB took off on a wide arc and slowly spiralled toward us. We were being checked out. There were four or five men, one clearly silhouetted displaying a machine gun. I made sure my hands were clearly visible from a distance. The RIB came along our port side.
"We have one hundred litres of diesel for you."
"Grazie Mille, how much do we owe you?" as we were hauling the jerry cans onboard
"Nothing, eez free!"
Toni threw the crew a Swiss army knife for their skipper as small token of gratitude and, with that, they sped off back toward Alliance with a friendly wave.
While Toni and Rolf were filling the tank from the new stock of jerry cans, I went to the VHF to express our gratitude. The radio operator said it was no problem and that instead of going to Catania, we should head to what I thought I heard as "Kintos." I thanked him and searched in vain on the plotter for Kintos. If anything was closer than Catania, it wasn't by much. It didn't matter, we were set on Catania and we now had enough fuel to make it.
Neptune had come through after all, delivering a public vessel out of the blue right on our course. We toasted his health and that of the Italian Navy and we were on our way once again with over thirty hours of fuel and about the same amount of journey time to go. We were still cutting it fine.
Day five! This would be our last day before arrival at Catania so we stopped the engine for the opportunity for a blue water swim. The mainsail was still up and even with this asthmatic breathe of wind, we were breezing along at a knot and half so we made sure there was at least one of us still aboard and took turns for a swim.
The sea wasn't particularly warm but then not as paralysingly cold as the English Channel. It's a spooky experience seeing pure blue all the way down; nothing. Not even fish. Like flying in a second sky.
We'd had the fishing line out for days but nothing. Apart from the dolphins, this sea seemed pretty barren but the most disturbing part about it was the volume of plastic fragments suspended in the water: a plastic minestrone. Worse still, we don't seem to be addressing the issue at all and the packaging assault on nature continues unabated…
I take an early nap and awake in darkness healed over to port. We have wind and the engine is off! Better late than never. I venture out into the cockpit. Rolf is asleep below and Toni is on watch. Pretty soon Toni turns in and, as he goes below, tells me to look out for small fishing boats, that won't show on AIS, as we near the shore. And so it's just me in the cockpit. Five minutes later the wind eases and the sails flail around in the dying breeze. I wait a minute to see if it's a temporary lull but no, I start the engine, furl the genoa, and tighten the mainsheet. I'm familiar with this configuration by now.
Eyes peeled for small boats against the distant lights of the shoreline, I'm unable to concentrate on reading the Kindle. Twenty miles to go at five knots. Four hours. Gets us into Catania at 07:30. the vessels that were around us when Toni retired had disappeared astern. Nothing on AIS apart from a cluster in the harbour. My time is spent moving from side to side like a dog in a car waiting for his master to return from the supermarket. The feeling of responsibility slowly mounts as we get closer in.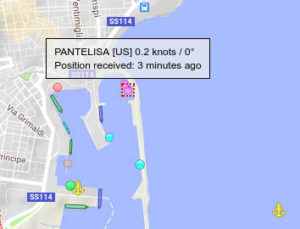 There is a dotted red line on the plotter about seven miles from shore that should coincide with daybreak. A good time to awaken the skipper I reckon.
Daybreak. Toni has a friend in the marina at Porto Di Catania. Luigi answers the call and alerts Santos, the harbour master, that we are on our way in. An hour or so later, Santos waves us into a vacant berth with the engine sipping the last of the fuel.
Catania. Sunday morning. Hallelujah…