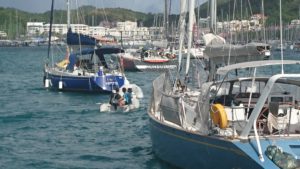 We arise one after another. Herbert was already enjoying the Martinique morning while I prepared my cereal upon a level surface for the first time in weeks.
Motoring into La Marina Du Marin. I hail the Marina to announce our arrival and the response is that Pantelisa has no reservation and there is no space for new arrivals. I relay the information to Thomas who tells me to tell them that we made a reservation days ago "Try again." is the order. Did the entry magically appear? No. I radio for a mooring ball. "Go between mark 7 and 8!" We see no marks and abandon the VHF to take any mooring ball we find.
At 2 pm the dinghy is deployed with the 2.5 HP Yamaha outboard. It's tiny. Thomas and Herbert go to clear in at immigration and connect to the world wide web. I opt to remain aboard since they will only be a couple of hours and three guys with three bags looks a little too intimate in a dinghy so small. Anyway, one more day won't make much difference. I've already missed the Christmas routine of greetings. Besides, I can use the opportunity to catch up on some sleep and then go in later.
6pm my phone rings unexpectedly. It's Thomas "Someone has stolen our dinghy…" This is not the welcome I had in mind for celebrating our acheivement…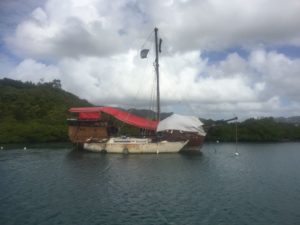 With Herbert and Thomas stranded somewhere in Martinique, darkness falls and I settle down to some writing and editing since there isn't much else available and the cleaning can wait until daylight. I'm too tired for reading tonight. 8.30pm and some activity on deck. Thomas and Herbert are delivered by the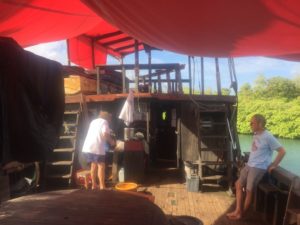 crew of the Czech boat "Victoria."
The next morning, we slip the lines on the mooring ball and motor round to the old galleon "Victoria." The sea bed is grass and holding poor for the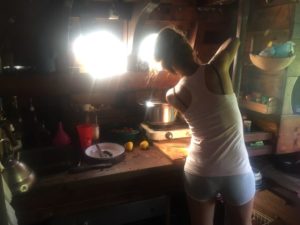 anchor so we tie alongside Victoria's service boat and intrude on Josef and his crew to take photographs and talk about their project. I'm not sure where Thomas' interests were at the time. Victoria is moored in a quiet corner of the bay. There are an eclectic collection of vessels scattered around the lagoon which reminds me of where I was moored in St Martin. Freedom seekers existing on the fringes of the state prescribed way of life.
We secure another mooring buoy slightly closer to shore and not so close to other vessels. Josef swings by soaked by the spray whipped up by the headwind as the dinghy moves through the water and ferries us ashore so we can work out our game plan. Drifting into the dock, we spy our dinghy and outboard. Whoever took it brought it back, it is a mystery but the game is now changed…
Thomas goes to the chandlery, which is now open, to get a cable and lock while I catch up on contact and updates. There is so much to do, it feels overwhelming and I restrict myself to messaging and telephone calls which keeps me busy throughout the day. With this being Thomas' final evening before he flies home, and treating us to a beer and tour of his own boat moored in the marina, Herbert and I offer him a farewell meal at Kokoarum, and we make our way through the tropical downpour to secure a table. The tables are full, the restaurant heaving and the band is swinging. The contrast is too much for me after the quiet of the sea and I give up the battle to communicate over the noise and take in what I can. I was happy to return to Pantelisa in our overcrowded dinghy and staying relatively dry of rainwater from the ankles up.
Things were looking up. We had transport, a mooring and a cold beer aboard a luxury yacht in a tropical paradise. Even though our mission to Colombia was not complete, this felt like the closing of a chapter and I felt sorry that our harmonious trio was disbanding…