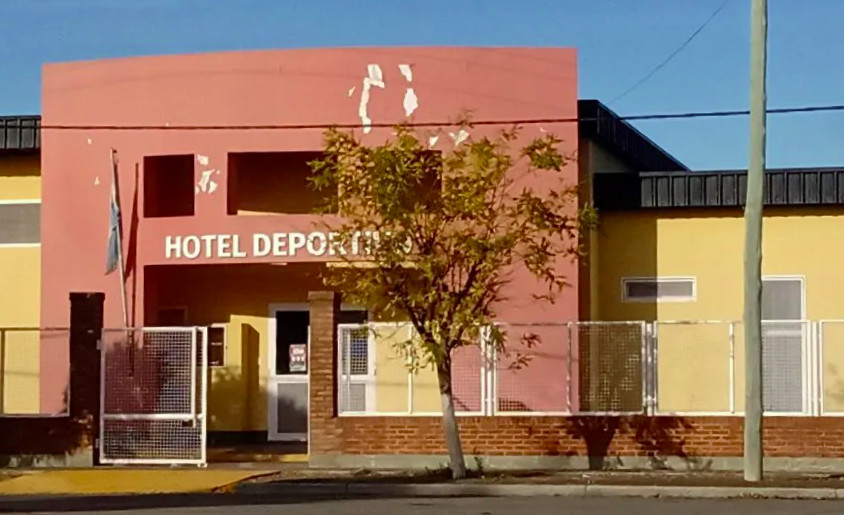 Driving into Rawson about midnight, the streets were dead quiet. it looked like a movie set. We cruised the dormant streets for a while, apparently lost. I didn't mind since it was more comfortable than the windowless Police Station I had sat in for an hour previously. I looked out of the window at the street lit emptiness until the driver stopped to ask for directions from a solitary police officer guarding a corner and directed to Hotel Deportivo just a few blocks away.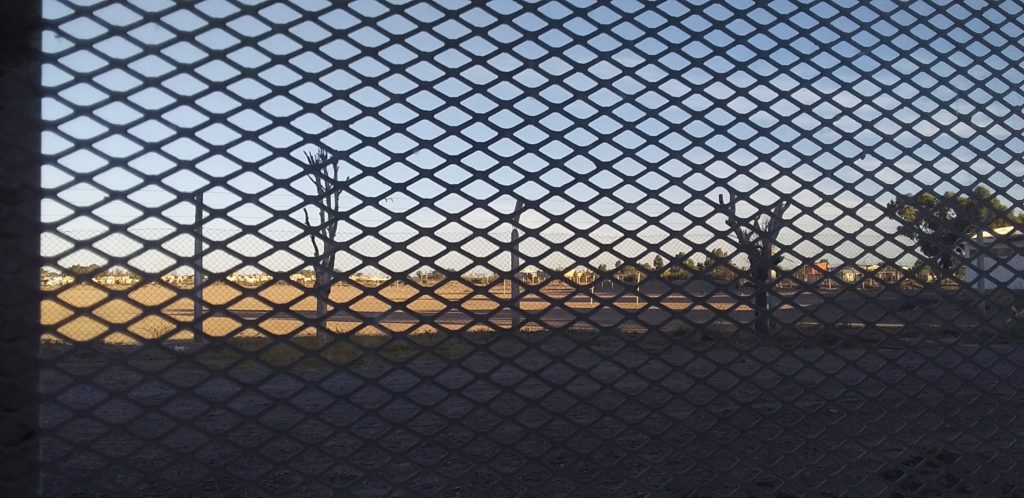 The masked receptionists asked some of the same questions I'd already answered earlier and booked me into a 6 bed dorm, bright and clean. I chose the bed nearest the window. Peering through the gap in the curtain and the diamond pattern of a protective grill, a fence topped with barbed wire 20 meters and a guard pacing along the perimeter. I imagined it would take 6 weeks to tunnel far enough past the fence and choose a moonless night to emerge in the sports field beyond…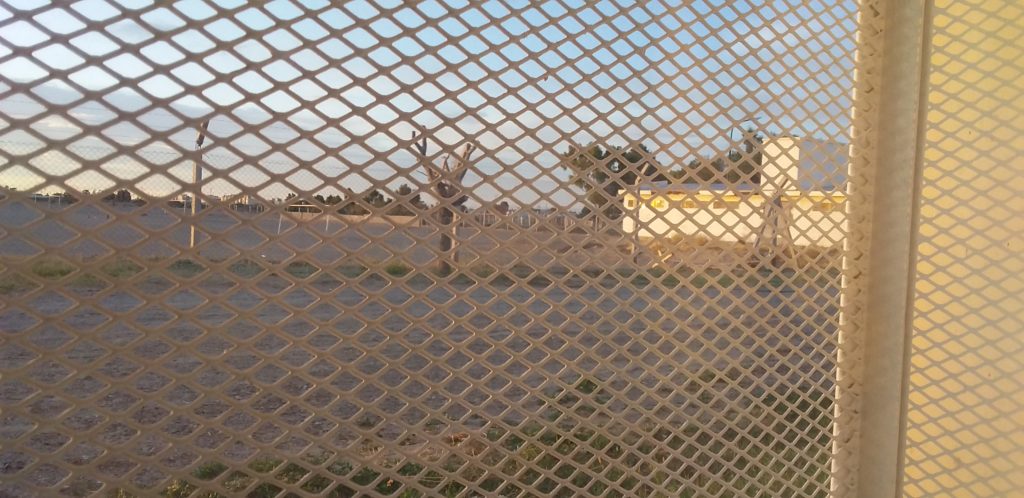 Next door to my right a couple from Mexico, to my left, a solo Colombian traveller, we were to stand in our doorways, whenever we needed to communicate and ordered not to approach each other at all…

I felt annoyed that the two weeks "quarantine" had been reset but my cell was clean and comfortable and would be fine for two weeks.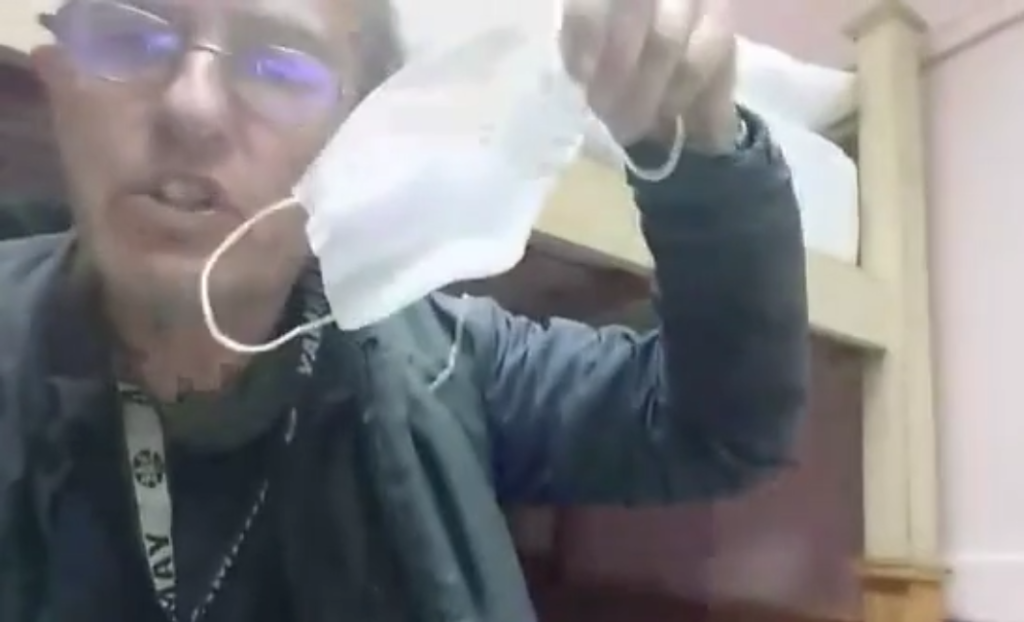 Two people entered dressed as medical personnel, wearing hooded blue paper overalls and masks took my temperature with a traditional thermometer and examined my breathing making notes on a clipboard. There was some discussion about my passport. I'd been in Patagonia for a year in and out of Chile and Argentina as the routes took me along the Andes to Ushuaia.

The ridiculous situation of being forced through Chile immigration for the sole purpose of crossing the Magellan Straits back to mainland Argentina meant that my Passport reflected only a month in Argentina, ignoring the bulk of the Summer I'd spent in Tierra del Fuego.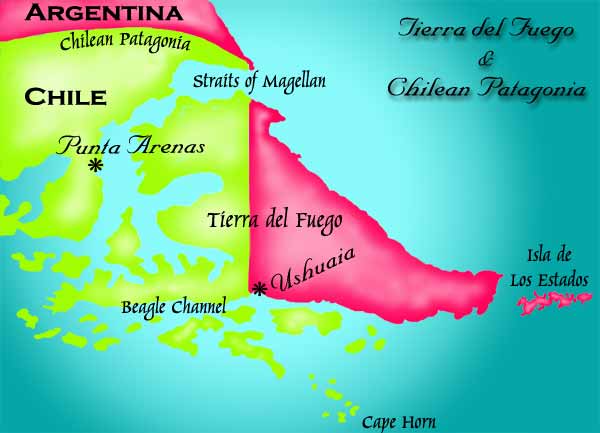 Day 1.. Not much happened. I read for a while until a knock at the door revealed a plate of spaghetti bolognese for lunch left on the floor outside my door. 9pm, a knock on the door I was instructed to pack up my things now ready to be moved – they didn't say where but it had to be now. The Mexicans next door told me that they were moving in with friends they knew in Rawson but my fate was unclear. As usual it was night time. I packed up and sat on the edge of the bed for half an hour, waiting for further instructions before giving up and climbing under the covers.

Day 2. 9 AM a knock at the door "We have to go now." They didn't say where… they stood impatiently while I gathered all my things together and carried them to the patrol car to enjoy another mystery tour.

We pulled up at the Police Control north of Trelew and waited. 30 minutes later, I saw my bike arrive in the back of red a Police pickup. They started to unload it but after a short discussion, they strapped it down again and told me I was to be driven to Puerto Madryn where I was to continue to Arroyo Verde in the neighbouring province of Rio Negro where presumably i would be another authority's problem.
"What will happen when I get there?" I asked.
"We don't know." he replied.
"Do I need some documents?"
"You have your medical certificate from Rawson?"
"No."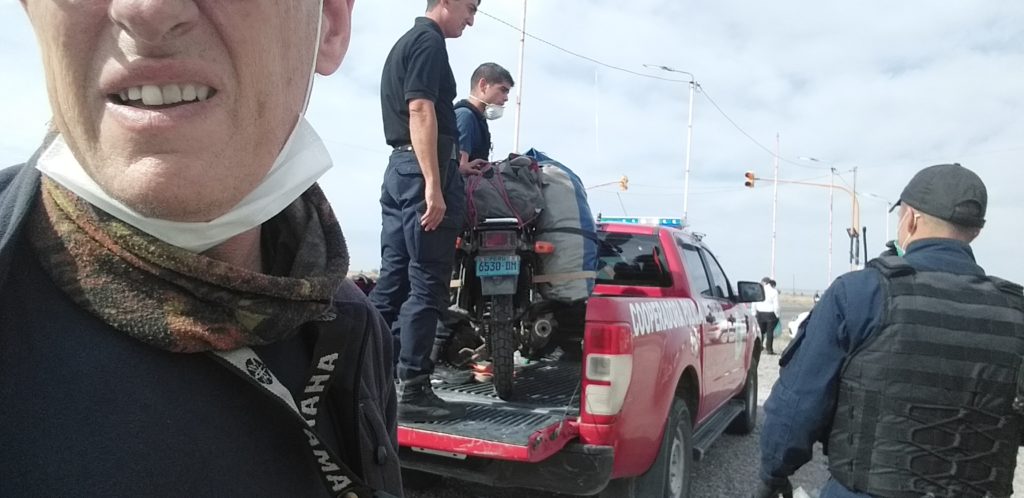 A quick phone call returned a photo of the document via Whatsapp which "should" be OK… yes, well, forgive my suspicious mind from the two recent betrayals but my trust in the authorities had already been eroded.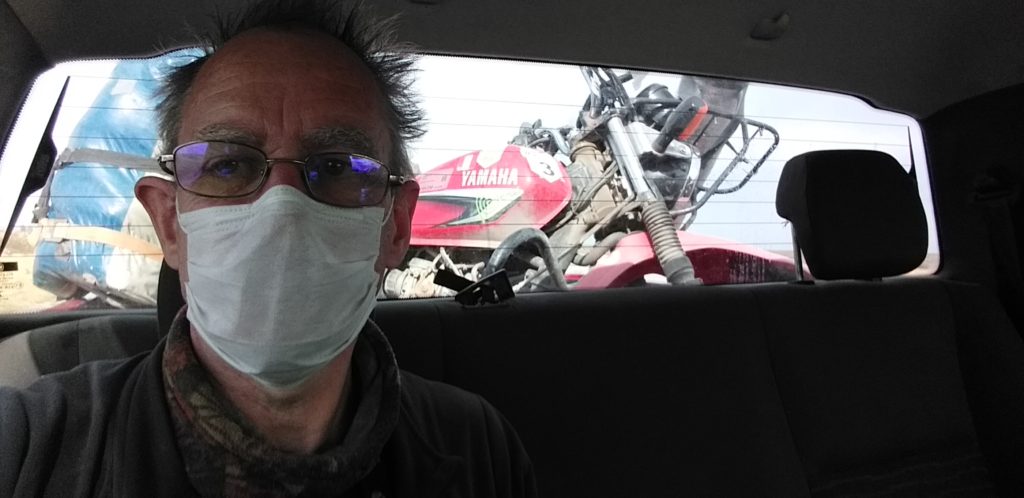 Ruta 3 had hardly any traffic and we soon arrived at YPF Puerto Madryn Ruta 3 where we dropped the fully loaded bike off the back of the pickup before the driver wished me Bien Viaje and span his wheels in the gravel to return south to Trelew.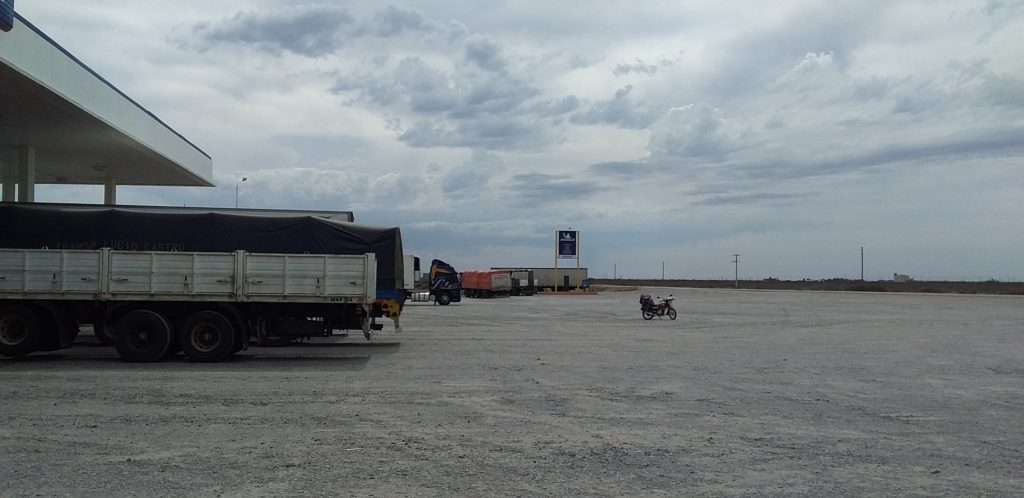 I decided to stay put, until I discovered more about what was actually going on and not gamble on my fate at the provincial border. This YPF station is a big busy truck stop. The shop staff are neither friendly or helpful, much like the motorway services back in the UK. I connected to the WiFi and Social Media to spend the day replying to messages and building new contacts. This plan became overwhelmingly effective and replies came flooding in. Someone arranged for the Policía Federal to come and help me out.

Three friendly officers in PFA jackets arrive and dial some numbers. After a phone call, they told me Puerto Madryn is closed and the Fiscal will not permit entry.
Instead, they issued me a 3 page travel document before leaving and wishing me luck.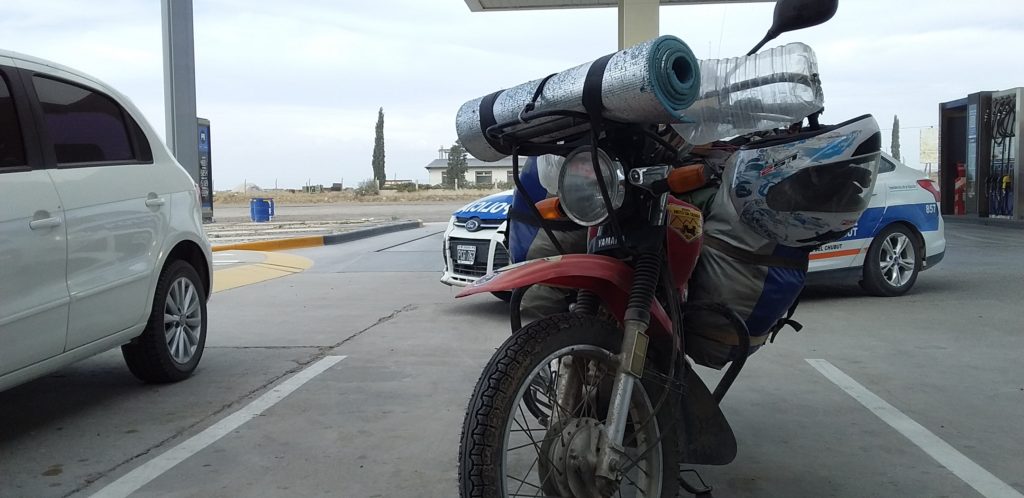 Local Police swung by while I was replying to messages and I explained that 1. I am forbidden to travel and 2. I am forbidden to stay in Chubut. I ask "what should I do?" They drove away leaving me with the unsolvable puzzle… and I retreated to the back of the building out of direct line of sight.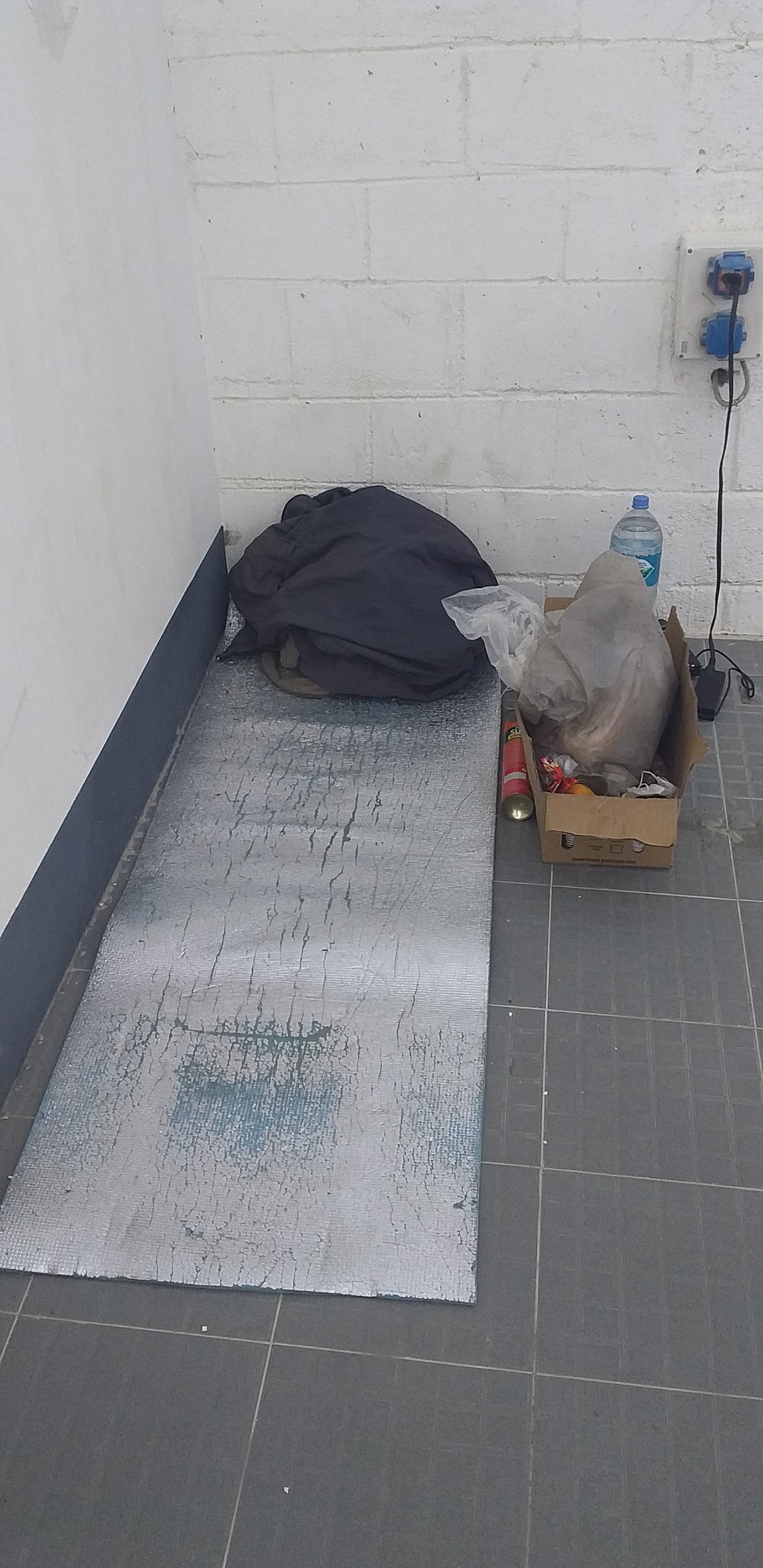 Around the back of the service station, I discovered an electric socket for charging my phone and I set up my camping mattress in the corner. 5 meters away, a bearded dishevelled looking man, the colour of a desert road with a backpack silently dozed forming an uncomfortable looking heap.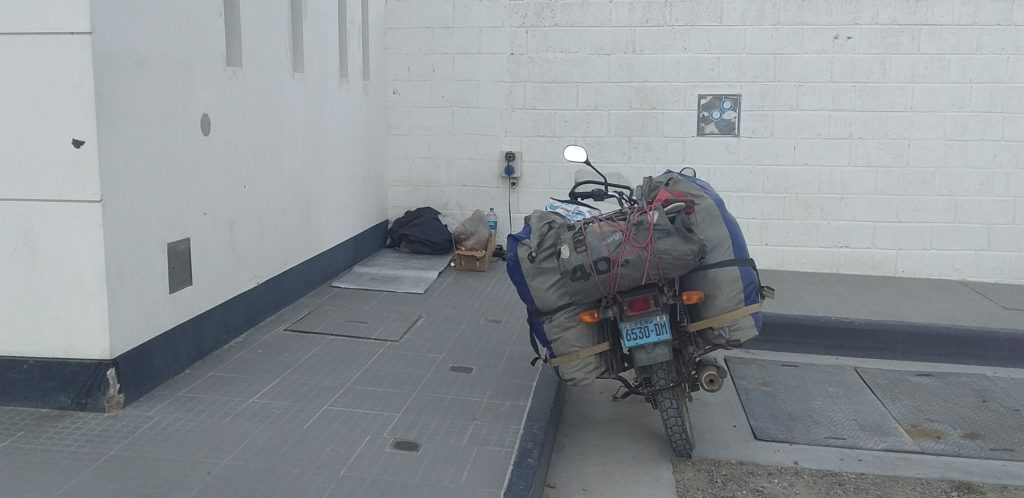 Midnight, more Police. I was probably reported by the unfriendly attendants in the shop, since I was tucked away out of sight. I climbed out of my sleeping bag and I repeated my story and added that I would be gone in the morning. Their response was sympathetic and reasonable and probably worked out that by tomorrow this particular problem would have solved itself. And I went back to sleep to the distant rattle of shunting trailers.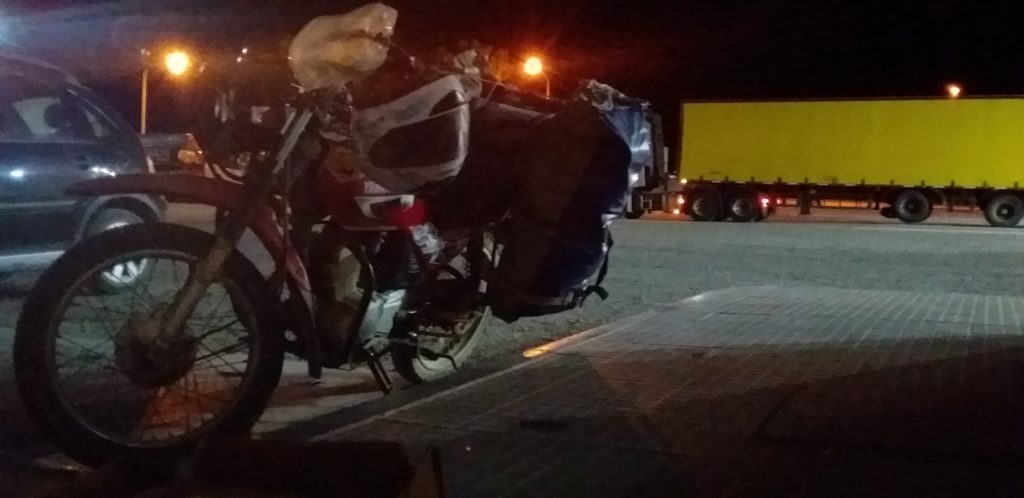 Spots of rain woke me up and I lay still for a moment while I formed a contingency plan but the clouds took pity on me, held back their load and rolled on by and left me to close my eyes, if not my ears. The sound of trucks coming and going kept me on the border of a vivid dragon-filled dreamscape and the granite grey reality of heavy juggernauts creeping over gravel, grinding away the hours.