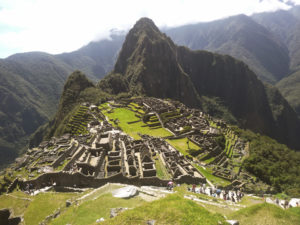 Machu Picchu is arguably an expensive attraction but, having been there, is totally worth the price. The hardest thing to work out is how to get there since it is not linked by road to anywhere other than between the citadel gates and Aguas Calientes (Machu Picchu Pueblo), the nearest town to Machu Picchu. So the question is: is it possible to motorcycle to Machu Picchu?
It's not that you can't get there, it's that there are multiple options depending on your budget and level of fitness.
there is a good article here for the general tourist
Also, there is a great diagrammatical map here that summarises the options plus a written summary below the map.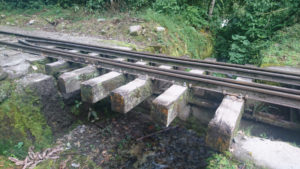 Can you get all the way there by motorcycle? No, unless you cargo it on the train which is pointless. Like I said, there is no road to Aguas Calientes except the railroad. Even if you could make a break for it down the rails at Hydro Electrica, there are wide spaced sleepers over drains and streams to contend with. Sure, you could feasibly take a plank or two with you but there is the second and more obstructive obstacle: railway workers and officials of which there are plenty.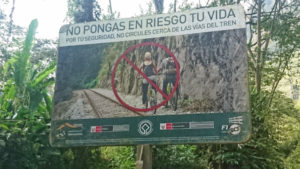 Cusco has a plethora of tour operators promoting Machu Picchu among other sites and you can shop around to see what's available if you are pretty thick skinned about leaving hopeful sales people disappointed and walking out.
There are limited tickets available to the site so at peak season it is wise to book ahead.
The train from Cusco actually departs from Poroy, a short taxi ride from Cusco, and costs $115 one way. That's US dollars, not Peruvian Soles.
The train is cheaper from Ollantaytambo varying between $55 US and $68 US depending on the time of day.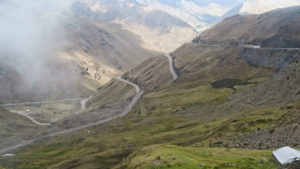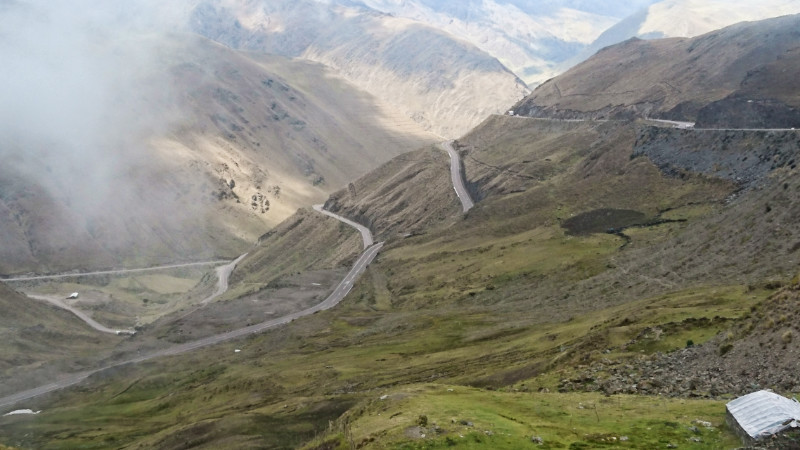 By rail, Machu Picchu is about 35km. By road, it is 154Km to Hydro Electrica plus the 10km walk to Aguas Calientes due to the fact the road winds around Abra Malaga with 61 hairpin bends and buttock clenching views over the Sacred Valley. It's an exciting motorcycle ride to say the least, especially meeting coaches and trucks coming round corners on the wrong side of the road, but keep your wits about you and you can see them well in advance. Leaving the Asphalt at Santa Maria and taking the Death Road to Santa Teresa is equally thrilling. A single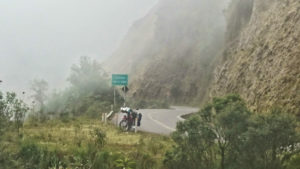 lane gravel track hundreds of meters above the Urubamba river on vertical cliffs with the occasional waterfall washing over the road. its the single access in or out to Santa Teresa and Hydro Electrica.
Machu Picchu is Machu Picchu. Anyone who can walk can pretty much go but for motorcyclists, the whole experience of getting there is part of the Inca adventure. At least as on a par with the Inca Trail trekkers that pay hundreds of dollars and book months in advance for there adventure.
I'd suggest making an extended trip of Machu Picchu rather than rushing it in a day or two.
Day 1 Cusco (optional: add half a day and visit Pisac – it's almost on the way to Ollantaytambo in a roundabout way)
Day 2 Ride to Ollantaytambo along the Sacred Valley. There are plenty of hostels and a couple of campsites. Casa Quechua allowed me secure parking in their garden. Walk up the Pinkaylluna ruins, they're free and the view is stunning.
Day 3 Ride 28B to Santa Maria over Abra Malaga the road is smooth with 61 hairpin bends apart from the summit which is often shrouded in cloud and covered with potholes. Unless you left early and still feel fresh, spend the night in Santa Maria. The road to Santa Teresa is not to be tackled in the dark or the rain.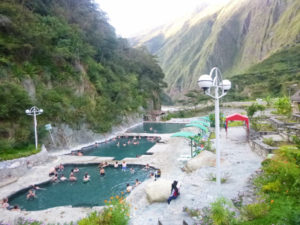 Day 4 the single track cliff road to Santa Teresa is 22km and has a loose surface with huge drop-offs with no barriers. go easy. Santa Teresa is mostly hostels and cafes catering for Inca trail trekkers. There is a party campsite on the southwest edge of town up the hill past the gas station that charge for wifi and electric. Or the thermal baths 4km north along the river is a more tranquil option for camping out of town, has no wifi but superb hot springs of crystal clear water the size of swimming pools. Or continue the 10Km to Hydro Electrica, there are hostels and camping there.
Day 5 Bike to Hydro Electrica or, as I did, leave the bike and tent at Santa Teresa and get a collectivo for S/6. A taxi should be S/20. The road is similar to the one between Santa Maria and Santa Teresa but closer to river level. There is plenty of traffic so hitching is a possibility especially if you hold out a 10 Soles note. At Hydro Electrica, the train fare is $55 US one way or two hours walk over about 10km. When you set off down the line you'll see a sign pointing into the woods toward Machu Picchu or Aguas Calientes. Follow that because the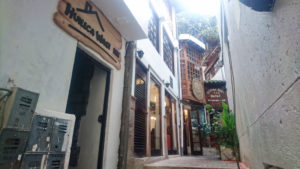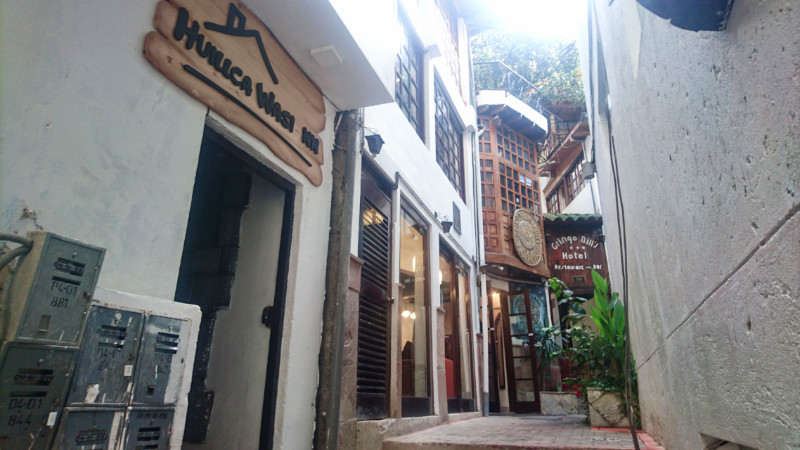 line ends around the corner the path takes you up to the mainline.
In Aguas Calientes, Huillca Wasi is a reasonable hostel near Gringo Bills off the main square: Plaza Manco Capac, S/30 a night for a private ensuite and decent Wifi. Book for 2 nights. At the ticket office at Av. Pachacutec near Plaza Manco Capac, book your ticket if you haven't already.
1. Citadel only. S/150
2. Citadel plus Machu Picchu Mountain S/200. (600-metre climb up uneven steps but spectacular views if it's not cloudy)
3. Citadel plus Huayna Picchu Mountain S/250. (popular and most crowded, steeper steps but 200-metre climb)
Then go to the main road near the level crossing to the bus ticket booth and buy a bus ticket $12US one way or $24 return (I know). There is another booth near the gates of the Citadel, if you're not sure whether to walk back down the steps yet. Take your passport. You need it to buy any kind of ticket these days.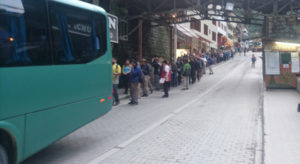 Day 6. Get up early. Anticipate a 40-minute queue at the bus station near the level crossing, plus a 30-minute bus journey. Nobody tells you that and you risk missing your time slot. If you are walking up the 400-metre climb, plan 90 minutes to two hours. Once back in town, walk up to the thermal baths at the top of Av.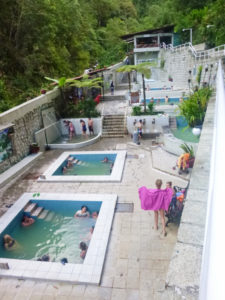 Pachacutec. You can rent a towel if you don't call in your hostel first. It's S/20 entrance fee, but worth a soak to ease any stiff muscles.
Day 7. Breakfast and wander back down the railway and maybe call in the Jardines de Mandor. If there are no collectivos at Hydro Electrica, get a S/20 taxi or start hitching holding out an optional S/10 note. At Santa Teresa, go for a soak at the thermal baths. Clean water and food and drink available for relaxing after your trip.