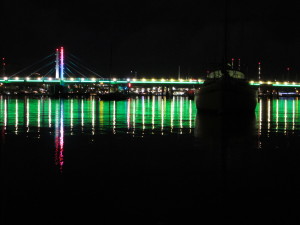 IT'S HEINEKEN REGATTA week here in Sint Maarten. Yachts from around the world congregate to race around the island in the day and party and rub shoulders with the sailing elite in the evening. Me? I'll be hunkered down in Glee ignoring it as much as possible in my quiet corner of the lagoon imagining my own impending future. I guess my reasons for sailing are different from the mainstream; to live as free as possible from bureaucratic interference.
I've been here 2 weeks and 2 days now but it feels like I've been here at least three times that. I know my way around the Lagoon area pretty well now and have got to know a few local liveaboarders. Glee is already kitted out as a liveaboard and, if I was happy with that, then all would be well as it stands. Adventure calls so some work needs to be done. For Glee, I've started on my Project Matrix: a handy tool for getting things done in Don Casey's book "This Old Boat." You can use this to prioritise almost any project so take note:
The Matrix
Get a large sheet of paper and split it into 3 columns and 3 rows.
Label the columns from left to right: 1, Immediate. 2, Less Urgent . 3, Someday.
Label the Rows from top to bottom: A, Structure. B, Feature. C, Finish.
You should end up with a matrix of 9 squares. The order of execution goes from A1 as items to be done first followed by B1 and C1, then up to A2, B2 etc. ending in C3. From this, you can see what jobs are out of order. It makes no sense for redesigning Galley to follow replace counter-tops. Most importantly for me, it chops up the work into small prioritised chunks so the overwhelm of thinking of everything at once doesn't stop me from taking action altogether, and I get a real sense of progress by checking off each task. So as soon as A1 and B1 are complete, I can head out of the lagoon and continue as I go.
Sure it took a few days to get the pencil and paper out but what's the rush? I'm still living on a boat in the Caribbean and that's not too bad. I get the impression that the slower I go, the less money I spend and I get this dilemma between living rent-free in the lagoon and funding cruising further afield.  Everything has a cost: tools and equipment for getting shipshape, check in fees at other islands, wear and tear, repairs, commerce geared up for the wealthy yacht set…
The other night I was talking to an Irish skipper over too many Irish coffees on his Catamaran and he said "Don't get stuck in the lagoon refitting your boat. Get out there over to Anguilla and around the Islands while you do it. My brother and I took our first boat from Plymouth to Southern Ireland and we hadn't sailed before…"  although he had been out in fishing boats. I take heart from those that have had less experience than me and think, "Well, if they can do it, so can I…" The other trick is to turn a deaf ear to the criticisers in the bars. "Take what you like but leave the rest" as they say…
It's just too easy to sit back in the tropical scenery and let life drift away; no different to being in a 'comfortable' job back home. We can easily get sedated by comfort and we are not meant to find comfort as a destination, we are meant to grow.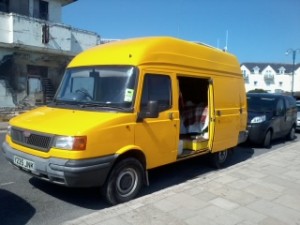 Last year I had severely decluttered and moved out of my flat and into my van. For the cold, damp, British winter, the plan was to hop over Texas visit my Dad and return in the Spring to take the van down to Portugal before the next Winter and maybe help with some organic farming along the way. I'd expect some travel costs but not as much as for updating a yacht. I get the sense that my downsizing and economising has regressed from that path, so there is a real temptation now to just sit back in the sun on deck with a book and a beer, rather than trekking around Ace Hardware for wire brushes, electric cable, cordless drills and rust preventer at island prices.
Sure, the van to Portugal was the easier and cheaper option but Glee seems far more adventurous despite the work that needs doing. It's like I outgrew my shoes faster than expected, and it's time to take bigger steps.
Anyway, time for a beer before the sun goes down and the crickets start singing over on the shore…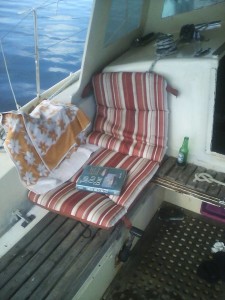 Cheers!