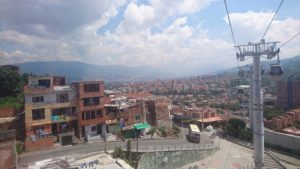 After the third day of rehydration, I felt strong enough to get moving although the headache was still with me. I ate an early breakfast but then made the mistake of going back to bed. It was approaching 11 when I awoke again. I had made up my mind to go to Medellin.
What's there? Warm weather, that's what. I wanted recuperation without the need for insulation. I could call myself a climate tourist now I guess.
Monserrate had been on my itinerary for Bogata for a while but today, I couldn't be bothered only for a nice view. An extra 1500 ft elevation on top of this headache? No, I can google it later.
I packed my bag and arranged for an Uber ride to the bus terminal. I was out of here. The bus was due at 15.30 and I had no idea how long it would take to get to Medellin. It didn't matter. I had a couple of hours at the bus station, long enough to down a couple of empanadas and a coke. Surprisingly, my headache had disappeared sometime before the arrival of the bus. Remembering a previous experience on a freezing bus I picked up a fleece blanket from one of the stores in the terminal. I felt better already.
The bus crawled its way through the Bogota traffic and into the countryside. The daylight was fading and we ascended into low cloud shrouding the Andean peaks. It was a grey-green Tolkien-like scene as we wound our way around the contours, westward toward Medellin behind groaning trucks hauling their load uphill or restraining it from running away downhill. The scenery was beautiful. Palm trees in a misty Welsh landscape would be the best way to describe it. I managed to get some sleep between the same old boring Vin Diesel movies dubbed in Spanish.
We arrived at the Medellin terminal shortly after 2am. It was warm enough outside just to bed down on a bench in the terminal for the night but the Cattleya hostel I had booked online during the journey was only a few km away. A cheap Uber trip later found me resting on cool white sheets over a soft bunk.
The proprietor had cheerfully put me in with a British couple that had only just gone out for food (at 3am). It would be a relief for easy conversation without grasping for foreign words and phrases for a change.
My roommates arrived with their takeaways and drinks seemingly less than impressed to find a new companion sharing their space. These Brits turned out to be a pretty glum couple and were not interested in introductions or social interaction and so I drifted off to sleep under the smell of cold pizza and muted youtube soundtracks on iPhones.
There's nothing special about Brits. Personality has no affiliation to nationality. The cool atmosphere was enough to get me up and out of the hostel as soon as possible. I was up at first light for a good warm shower as it had been a few days since I had either the energy and the pleasure. It was still too early to hit the street so I went back to bed for a bonus nap.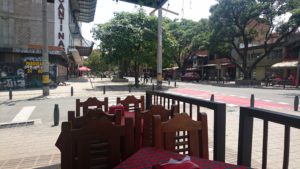 Awaking with the sun shining more insistently through the curtains, I quietly packed my bag and left my slumbering companions with a quiet click of the door latch. The morning was like a perfect Spring day in England, warm and bright with the dappled shade from the trees lining the Colombian avenues and I soon settled on a corner table on the patio of a street cafe a block away.
I was up too late for the breakfast menu so opted for a long brunch of chicken and rice plus a couple of thick Mango juices. I actually felt hungry for the first time in days.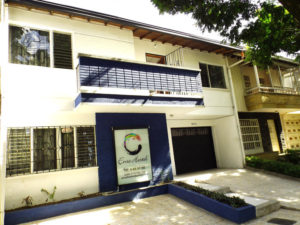 After a short walk, I was at Enso hostel, cheap but roomy with a large common area. It looked like a party hostel but didn't seem too noisy. Mike was the gregarious proprietor, an ex-construction worker from Britain who had been here 9 years and taken over Enso in the last few months. He pointed to the Metro map painted on the wall and told me about the cable cars and Comuna 13, the site of the bloody "Operation Orion" drug offensive of 2002, basically a two-day war on the streets.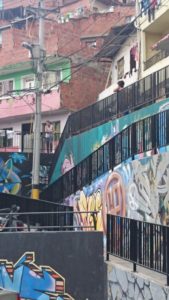 Enso was cheap, in a good location with a free breakfast. The communal area was a bright covered patio area ideal for catching up on my online work.
I already felt better in this climate. I didn't do much the first few days apart from catch up on some blogging and revive the book I had started after the collapse of my marriage all those years ago. What was ahead of me? Mainly Thomas's boat move from Martinique to Sardinia. I needed to get there for him next month so it was time to look into sorting that out.
The original agreement with Pantelisa was all flights paid so I contacted Toni to talk about a flight to Martinique. He felt offended I should ask and argued that I had decided to stay in Colombia. Apparently, 'it doesn't work like that.' I guess it works how whoever says it does. An agreement is an agreement. They are either honoured or broken.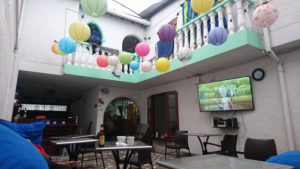 It doesn't matter, I would have done the voyage anyway.
I contacted Thomas to ask what his arrangements were and he told me that work and home commitments now prevented the voyage. So the trip homeward bound was off. Like any unmet expectation, a gaping hole in my schedule had suddenly opened up. What was I going to do now? It is still cold back in the UK so I wouldn't be going back before the April. There is time to think. Colombia is a cheap place to live while making plans. It would be easy to think "I'm stuck here." But I'm not really. I simply found myself at a junction in time, with Medellin being not a bad junction to be. "What else is possible?" my friend Greg asks; a trick question since any answer becomes a limitation. That door remains open to see what opportunities roll by.
`Would you tell me, please, which way I ought to go from here?' Alice speaks to Cheshire Cat               
`That depends a good deal on where you want to get to,' said the Cat.
`I don't much care where–' said Alice.
`Then it doesn't matter which way you go,' said the Cat.
`–so long as I get somewhere,' Alice added as an explanation.
`Oh, you're sure to do that,' said the Cat, `if you only walk long enough.'
The world is my oyster and I know not what I want. "Your path is infinitely long and wide," Ayahuasca had told me "Do what you want." Good, I'll hang around the hostel for a few days then. There is no need for haste.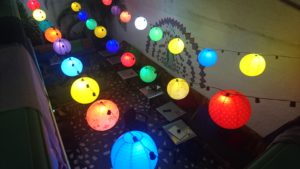 Enso hostel was proving to be annoyingly noisy. Not volume wise but quantity. How can anyone watch a movie and listen to rap at the same time? Hence the move to Samarian.
Samarian is a smaller and quieter hostel and promoted as a digital co-working venue with good WiFi and plenty of workspace. Just what I wanted. While there was a TV no-one used it while I was there and there was no music either. I indulged myself in reading, editing and writing.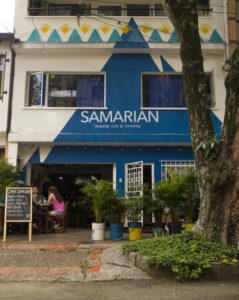 Tanya, an attractive, petite and competent Colombian receptionist welcomed me with a smile and functional English. She ran the place almost single-handed every morning, cooked a nice breakfast and made really thick Mango juices. I ate eggs and avocado with Mango juice every morning.
I stayed at Samarian a week. The Atlantic voyage was off which left opportunities for the future but there were a few loose ends in Cartagena: bits and pieces I had left behind that Michael had kindly offered to take care of for me while I was away.These odds and ends were the only reason left for returning and, in hindsight, a mistake to leave behind.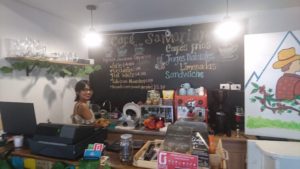 Looking at the Metro map, Caribe station was right next to the bus terminal and Floresta was a short walk from Samarian Hostel. Trip advisor indicated the bus at 20:30 but I thought I'd get there early.
"16:30" said the ticket vendor. It was already 16:15 I boarded straight away. Fifteen hours later I was pulling into Cartagena in the morning rush hour.  The traffic was busy past the bus stop outside the Transport Terminal. Through the noise, I overheard a bus conductor say 'Manga' on a passing bus and I hopped on as it crawled by. Pantelisa was moored at Manga. I could find my way to the marina easy enough from there.
Michael was already aboard and Toni arrived a few minutes later Greetings were cordial but I didn't feel particularly welcome. Pantelisa looked good and had some nice interior restyling. Toni and Michael went about their business while I gathered my things and returned to the bus terminal.
I bought a ticket to San Gil, it will be good to be amongst friends after this period of solitude. Now that these ties to Cartagena were tidied up, I relaxed back into the orange plastic seat at the bus station feeling a new level of freedom.