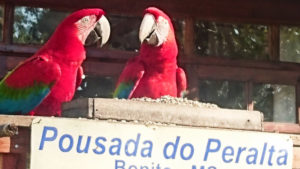 POUSADA DO PERALTA has good reviews 0n the ioverlander app and seems reasonably priced. Kicking down the side stand and planting it in the gravel, I climb off the bike and introduce myself at reception and given a tour of the tree-shaded grounds, bursting at the seams with coach-sized luxury motorhomes, I give the thumbs up with a smile and given a warm welcome in barely intelligible Portuguese. I get the tone and body language more than I do the words.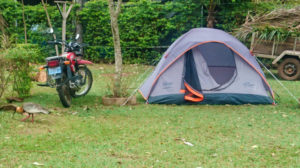 Pitching my tent at a space at the far end near the laundry, the giant motorhomes fill up the rest of the site. They are here for Bonito's Annual Winter Festival. A pounding beat out of the centre motorhome blankets the peace the rest of us would otherwise enjoy but is thankfully switched off by dusk.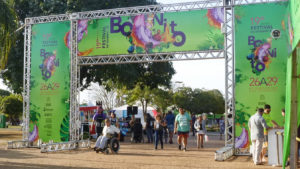 The warm weather encourages me to strip to my t-shirt and jeans and recline into a hammock under the trees before firing up the laptop. Sandflies soon encourage my fleece back on again to gently sweat in the balmy air. When the music dies the husky quacks of Toucans and distant song of mysterious tropical birds come alive.
The WiFi is strong and reliable and I catch up on some neglected writing and sorting through videos, stitching short clips together ready for uploading to Youtube. While I'm learning these crafts, hours get vacuumed into the day and dragged over the horizon with the sun.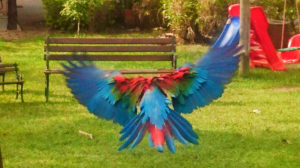 One day flowed into another through bright sunny days in the high twenties. The beauty of the Araras' (Macaws) plumage was offset by their shrill squawks. It was a wise choice to choose the hammocks not directly under their favourite branches…
I ignored the tours proudly shown off on big colourful posters around the office and set about looking for how to generate an income online so I could perhaps stem the leak from my savings and reassure myself I could continue the journey I found myself on.
I considered leaving after day three but the forecast was for rain and thunderstorms for the following couple of days. I hung back but nothing really came of it and the forecast for the next week looked fine.
I eventually packed everything ready to load the bike and leave. Five days here felt long enough. I'd go south of Bonito to one of the sites near the river, then Jardim, then down to Paraguay. That was the plan.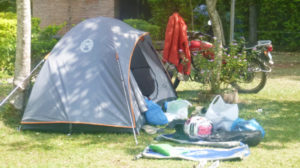 Gathering everything together, something was noticeable by its absence. My wallet. Checking pockets, bags and all through the tent. No wallet. I wouldn't be going anywhere. In the wallet were; R500 ( about £100), my last active bank card, blood donor card, a few sentimental photos, and a photocopy of my passport. Checking my pockets, I had only three coins, 1 Real and 2 Bolivianos.
I didn't believe it at first, since I'd hardly been anywhere away from the site, and continued looking. Planting my moneyless carcass down in the shade of the tent, I pondered my options. I couldn't see many through my emotional cloud of disbelief. I couldn't buy anything… I couldn't leave because I couldn't buy fuel. At the same time, I couldn't just do nothing so I rummaged through every item I owned once again. There's only so much you can get on a motorbike so that didn't keep me busy for long. If it were here it would have shown itself by now.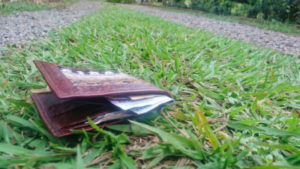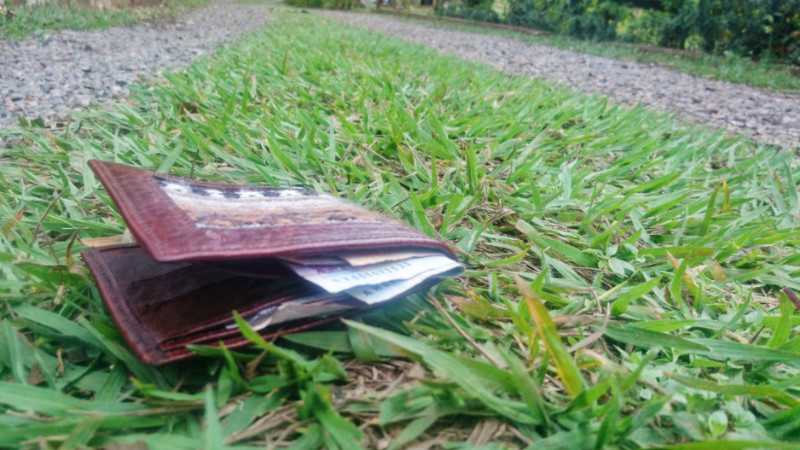 I discovered a similar empty wallet in the bottom of a bag of gifts for family. I had bought two wallets in Cusco, one for me and one for my Dad, something I could wave around to see if anyone would recognise its twin. I had had my wallet last at the Formoso Supermarket the day before and hadn't been anywhere else since. Lost or Stolen, I couldn't tell. Whatever the facts, the wallet and its contents remained absent…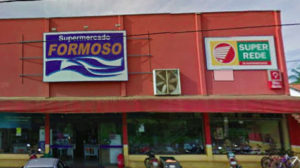 While I had internet access, I typed out the question I wanted to ask at the supermarket via Google Translate and rode around the corner, pronto. Shaking of heads were the only response to the question I was pointing out on the screen. Lost for any more words, I coasted slowly back to Peralta scanning the gutter for stray wallets.
Five hundred Reais is about one hundred pounds, or about 10 days budget for living at the hostel, a fair sized loss. Worse than that though was the loss of the card. Like the sword of Damacles, that last remaining access to my funds had been hanging by a thread for months.  That thread had now snapped, cutting me off from my financial reserves.
I had no backup in place. The convoluted policies of my banks had always put me off whenever I set about dealing with it. Anyway, the expiry date of the card was six months off so I had plenty of time to sort it out.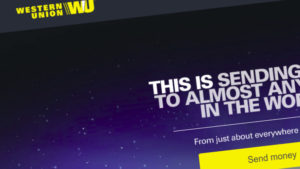 I logged on to Western Union and found I could send cash using a bank transfer. Screen by screen completed, one to another and, Ping! a pop up: "Your money transfer isn't complete We're sorry, but we are not able to send your money. If you have any questions, please call customer service at 0808 234 9168"
Using Skype, I contacted support to hear a voice, worn down by the repetition and disdain of a helpdesk environment, which told me to clear browser data: cache, cookies and history from the internet browser. I was instructed to have a nice day before he hung up.  Clearing data didn't help in either Firefox or Chrome. I was stuck.
If money doesn't buy you freedom, the absence of money certainly puts bars around it. Bars that can't be seen but can certainly be felt…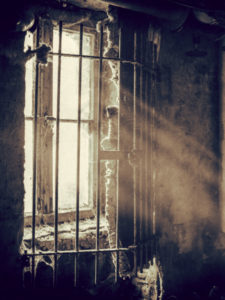 How To Protect Your Money While Travelling Abroad
What To Do When Losing Your Money Abroad