I PACKED SLOWLY and reluctantly at Cachoeira Princesa dos Campos. I loved it here but I have to urge myself to move on before roots get too deep and bid farewell to my hosts. Exiting the gate, the RS476 to the right is the more direct route but is an unsurfaced rough, stony 40 miles or so. I opted for the longer but fast, smooth asphalt via Tainhas, and perhaps stop to wander around Sao Francisco da Paula to see if it is as nice as its name.
Bright and warm with the sun at my back, the motorcycle's windstream brought on the chill of the air, I rode as far as I could bear before submitting and unpacking my Jacket. I'd also forgotten a last-minute recap of the route but my memory jogged from sign to sign.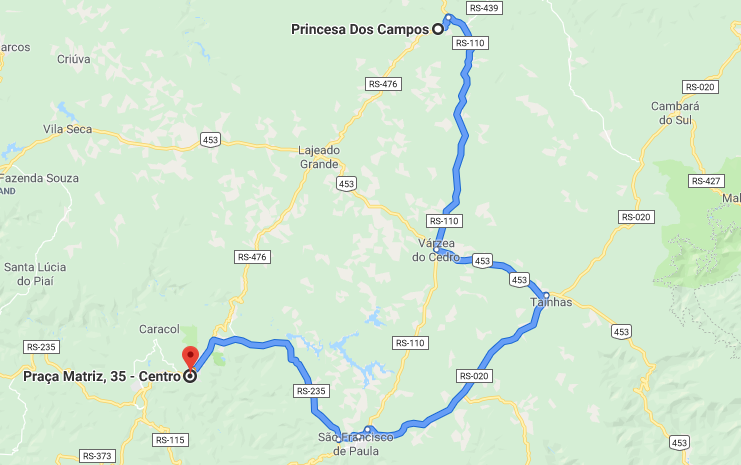 Two weeks in one place brings familiarity and feeling of homeliness. the thought of moving on brings resistance on having to discover my way around a new town, sure I like adventure but the paradox is I'm not too attracted to the initial feeling of unfamiliarity with new towns and cities. Riding around a city for the first time is perilous. Locals know the layout and zip along at a good pace. Without local knowledge, eyes sweep the vista for endless signs that are both there and maybe missing. Unsigned one-way streets are checked by the direction of parked cars. Impatient drivers race by and cut across. Lane changing needs 360-degree observation first and junctions are often missed in flowing congestion.
Safely through Tainhas, thanks to light traffic and Canela being well signposted, a couple of drivers flashed and waved as they overtook me and I returned a friendly wave back before stopping to check the bike and realised they were trying to alert me I was trailing about 2 metres of line along the road, probably ever since stopping to retrieve my jacket from the panniers. The luggage remained secure, luckily. Idling along, craning my neck, for signs of directions and danger plus recalling my orientation from yesterday's glance at GoogleMaps, kept my mind busy.
Sao Francisco de Paula: nice name, not so nice view up the hill from the road. A forked junction presented the way into town. I opted for the bypass as the shacks perching on the hillside made the town looked foreboding. Sometimes there's a feeling in the gut that says "Nah!" Providence tells me that obeying it is for my own good. It either saved my life by avoiding a potentially mortal situation or I'd missed a quaint Latin Plaza. I'd never know for sure.
Gregg Buyskes taught me about Providence and had drafted a book about it. Gregg was my neighbour in the lagoon back in Simpson Bay, Sint Maarten, when I lived on Sailing Vessel Glee before Hurricane Irma wrecked our boats. He'd built his himself and named it 'Providence' and lived his life by its philosophy.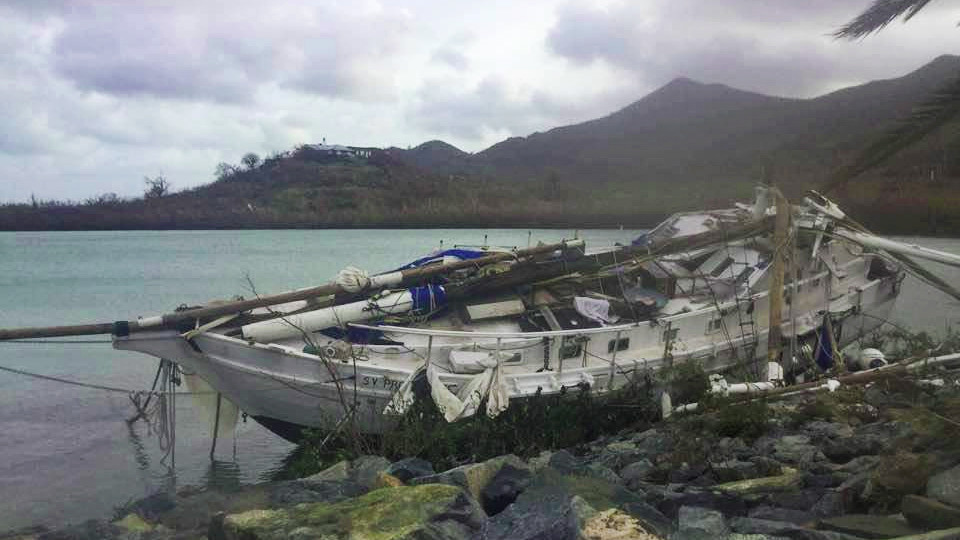 The example he gave was: "Say you got the inexplicable urge to buy a lottery ticket and you pop into a store and buy one.. The ticket doesn't win but the few minutes delay that it caused on your way meant that you didn't cross that road just as that truck careered over the pedestrian crossing the driver was checking his texts. Two minutes earlier you could have been splattered over the asphalt, but now the danger has passed. In a way, that lottery ticket turned out to be your winner but you are none the wiser." Something like that anyway. Sailing Vessel Providence was last seen wrecked on the causeway after Irma and Glee discovered sunk half a mile from her mooring 4 months later. Cest la vie.
And so, I harkened to my intuition (or fear) and gave Sao Francisco da Paula a wide berth.
Canela presented the usual grid of one-way streets and quaint cobbled side roads. I followed the traffic flow guessing my way to the centre until I arrived at fantastic gothic-looking church sporting large letter's CANELA in front of it so you don't have to photoshop it in your photographs later. I encircled its island plaza a couple of times and pulled up opposite at the "Chocolateria e Bistro das Hortensias" for a luxurious sandwich and coffee after my austere diet at Princesa, but more importantly, there was WiFi for discovering a camp spot.
7km away promised a remote mirante up in the forest, Morro Pelado. iOverlander told me where it was but I didn't zoom in far enough for the road to it to be displayed and the review only described a wide track that terminates at the view. GoogleMaps
filled in the blanks guiding me past Alpen Park ominously 'down' a typical single-width unsurfaced track. On the GPS I had arrived. On the ground here was no access to any Mirante towering above me. In fact I was in a valley with a 60-degree cliff. Google wanted me to park the bike and climb the mountain. I decided to continue along the track and see what was around the next corner and the next and the next.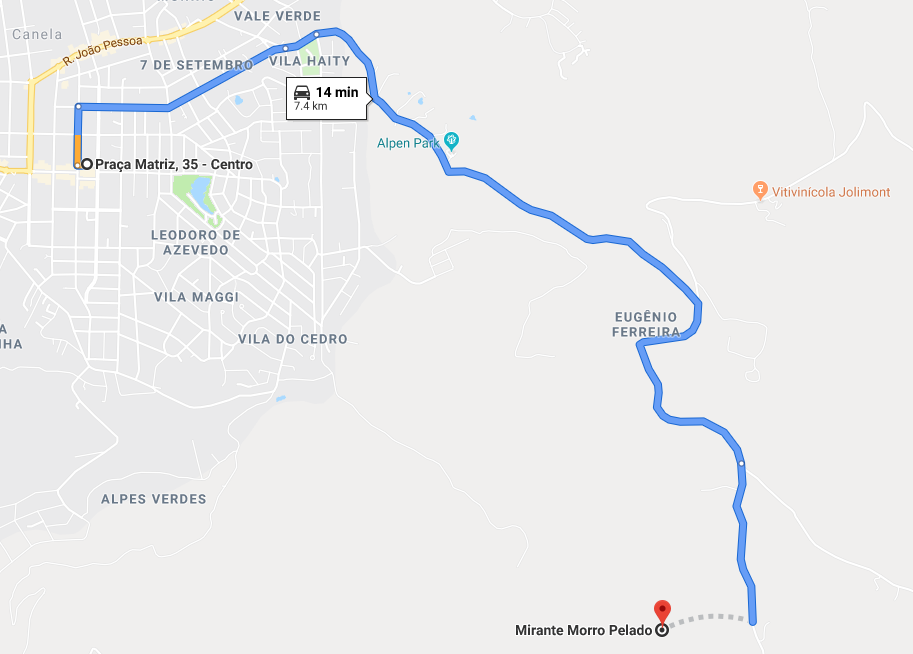 Passing a barren area of deforested land, making a mental note as a landmark and possible plan B, continuing on to see if the road wound it's away back into the south of Canela. A right turn took me up a series of hairpins. Isolated families gawped at my fully loaded bike bobbling along the lanes. The incline dragged my fuel gauge to empty and I hoped it wouldn't be too far and that I either had enough fuel to get to where I was going or it would be all downhill for coasting.
The angle of the afternoon sun told me I was heading in the right direction, swinging back from the south northwards and uphill. not to the mirante but back into Canela itself. I'd taken a screenshot of google maps for the mirante but not of the route to the alternative site in the pines to the north. Anyway, I was ready now ready to turn in, which tends to extend the limits of my budget when searching for accommodation.
Parque do Sesi has a good write up in iOverlander, its tab was still open in the browser. Plus I noticed tourist signs to it along the way to Mirante Morro Pelado. Providence was nudging me that way…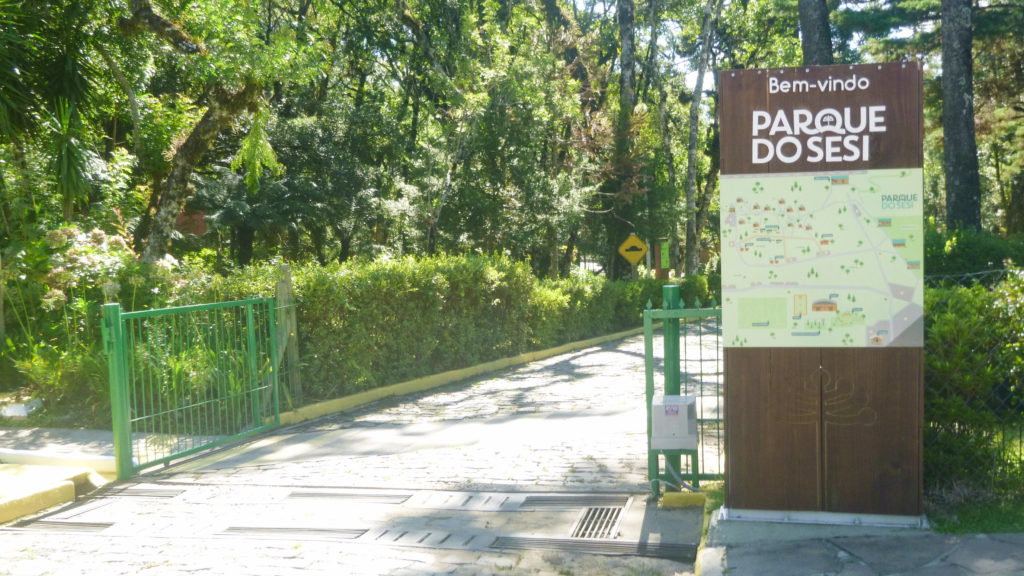 I closed the laptop and retraced the route along which I'd seen the sign up then followed it to the Parque. 30R is just on budget, spacious and secure with good facilities. Best of all, I seemed to be the only person here and pitched on the lawn under the trees next to a power outlet and settled down for the night with some sandwiches, Cachaça and a movie.
The day dawned and with my curiosity about the mirante still buzzing around my brain-cell, I unloaded the bike and ventured along the nearby trails through the forest in the afternoon and came upon it easily this time to a stupendous view. It's more popular than I imagined with old fires and litter scattered across the place. This place wasn't secure and I'd have to pack away daily if I wanted to go into town. Over the plains toward Porto Alegre, I noticed streaks of squalls under black cloud drifting my way. A sorry looking black dog emerged from the forest and sauntered up to me. I still had some dog food I'd bought for the little Chihuahua that I never saw again and promised the dog I would be back the next day and hurried away to beat the rain glancing at the unhappy dog in my mirrors.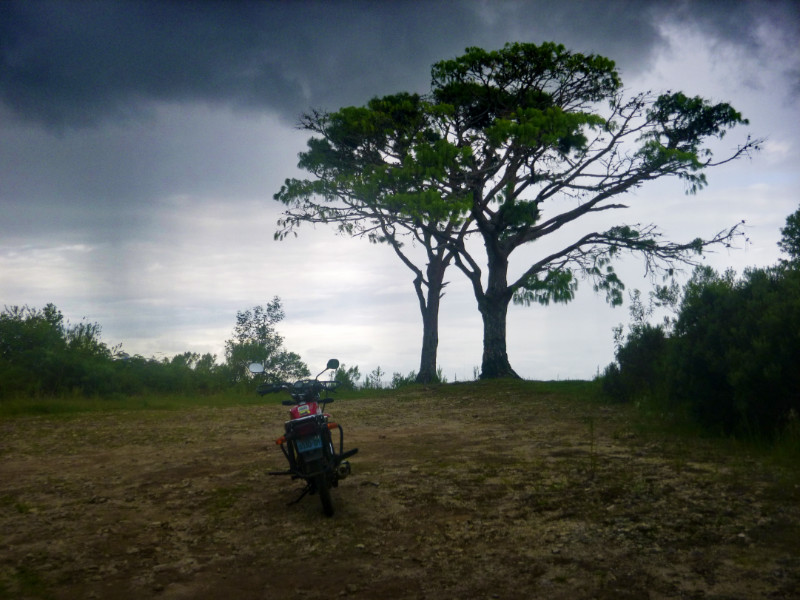 I lost the race against the squall and the cold rain was just penetrating my base layer as I arrived back at the tent. The following day, I rattled along the track back to the mirante and sounded my horn but the dog didn't appear. A Brazilian family was enjoying the view and we exchanged a few words but after their car crunched its way back to town over the loose stones, I had the place too myself. I picked up some litter and tied the bag to my bike and when I was ready to go, dished the dog food up on a rock and left to explore the forest some more and discovered two more good camping sites but decided I was settled closer to town…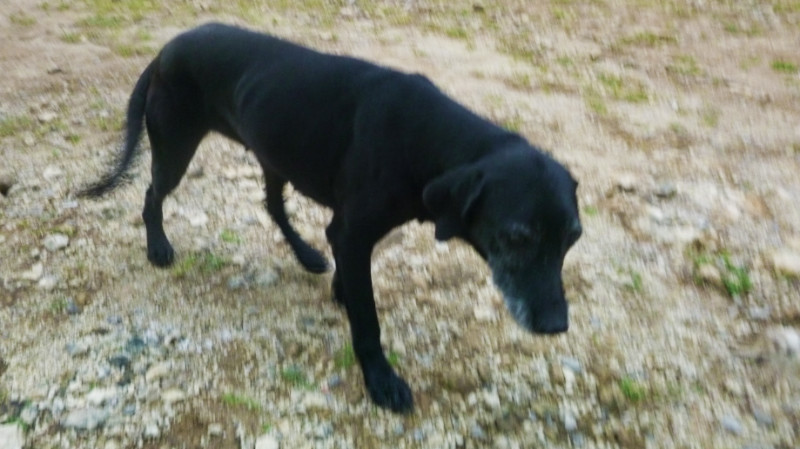 The supermarket that was open last night was closed tonight but the Security guard at Sesi directed me to SuperBom about a mile away. SuperBom is a family-run supermarket open until 11pm 7 days a week. I picked up some beer, nuts and chips and returned to Sesi for the evening movie, leaving a beer at the vacant sentry hut for the Security guard. The nigh here is quiet and still barring the standard-issue distant barking of dogs.
Stopping in for some bread at SuperBom. Geraldo asks me about the Peru plate via Google Translate. Looking at the bike parked forward toward the window, the plate is out to the street so he must have noticed it last night. I respond in my best Portuguese and sign language. Geraldo invites me to lunch the next day and I accept. Geraldo has a Suzuki VStrom and likes to travel whenever his 7 day a week job managing the store allows him. Meanwhile, Geraldo beckons me across the road and speaks to Marcos at the Moto garage and we book the bike in for the next day to check the carburettor. The bike stalls if I suddenly yank open the throttle. The internet tells me it's a rich fuel/air mixture but I haven't found its adjustment screw yet.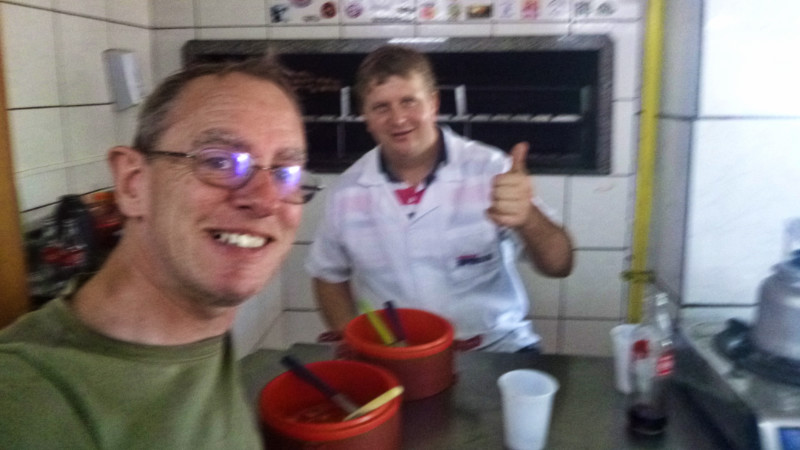 Venturing out in the dark for a hot meal, I turn a cobbled corner to the Gothic spectacle of the Paróquia Nossa Senhora de Lourdes (Cathedral of Our Lady of Lourdes). Illuminated like it's Christmas eve together with the clouds drifting across the face of a full moon, the whole scene is spooky but majestic. What planet is this? It's not a world with which I'm familiar.
At lunch, the following day, I discovered a little more of Geraldo's world. He has the security that's lacking in my life and I have the freedom lacking in his. He tells me of an Englishman that drops in on Thursdays and I should come at about 6. Since Geraldo seems permanently at work, friends come and hang out at the storefront. Socialising is punctuated by customer sales and assistance.
Over the road, Marcos gave the bike a thorough check and oil change. the throttle response is much improved and I've located the adjustment screw but not found a screwdriver small enough to turn it. Later, I don't really need it now. It will be a while before I negotiate higher altitudes and adjust the fuel-air mixture. I offer to pay but Marcos vehemently refused, stating he was happy to be a small part in my grand adventure.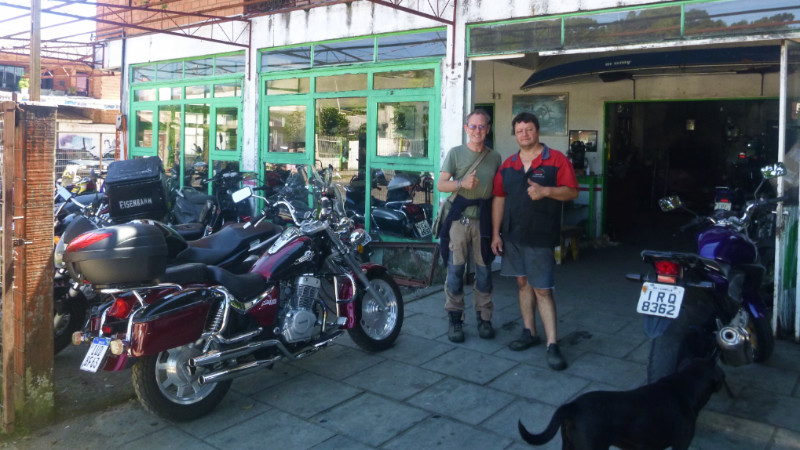 Thursday evening I roll up on the forecourt of SuperBom and introduced to Roderick. His southern English accent is music to my ears. A stream of comprehension flows through my ears reminding me of how much effort it is for communicating in a foreign language. Roderick's Son inlaw owns the Viking bar in Canela and I'm invited to their Rotary Club event on Sunday.
Already, a week has passed in Canela. I'm already a regular at SuperBom and Geraldo is a good friend. I stick his motorcycle club sticker over the old Russian flag emblem glued to the front of the fuel tank. The bike looks more 'stateless' now.
Returning to the tent, one of the poles had given up the ghost and snapped clean through. I'd fixed these breakages before but this was it, no more. I unpacked the Quechua ultralight I'd found in Bom Jesus and retired the Coleman Rainforest for good. I'd donate it for spares or repair later in Montevideo, Uruguay.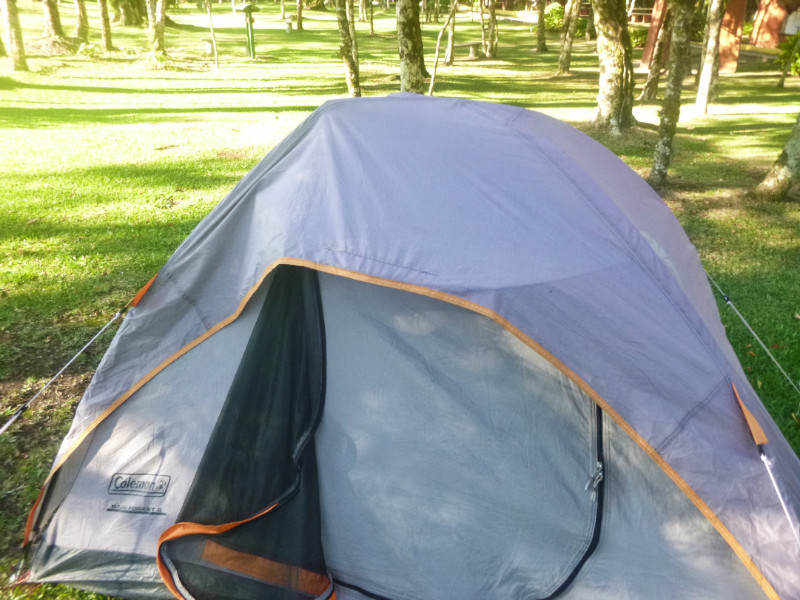 I spent the following few days visiting a few sites like the Mirante do Lage de Pedra Av., for a view almost as good as Morro Pelado, Gramado, an expensive Germanic tourist town and the beautiful park at Cascata do Caracol, begrudgingly paying an entrance fee and discovering it was worth every centavo.
Sunday heralded a silver blanketed sky of scattered showers. I took a punt on a clear spell, mounted the bike and cut through the thick cool air as the tyres hissed over the gleaming asphalt toward the Viking Bar. I was halfway there before the next squall and the cold wet fingers of the weather worked their way through the threads of my clothes.
At the Viking Bar, Artesanal beer gazebos were up and I was directed to a desk that sold tokens. Money wasn't accepted directly at the stalls. Roderick wasn't there so I drifted around anonymously as if I had stumbled into someone's wedding. He appeared half an hour later and introduced me to his wife, a Brazilian who speaks impeccable English. She told me not to bother to learn Portuguese as most Brazilians understand Spanish. By then, it was too late. Portuguese had already contaminated the Spanish I had begun to learn and hampered progress.
A pretty young girl approached us announcing she was about to get up and sing with the band and skipped off to prepare. Roderick said, "I didn't know she could sing, she's a teacher at the local primary school." It turned out she couldn't sing after all. the band were tight and punchy beneath the shrill out of tune vocals. I applauded at the end of each song, more for her bravery rather than talent. The band continued for a while and I stood silently next to Roderick unable to compete with the volume of the heavy metal din through the Viking Bar. I'd imagine modern Vikings would hang out at places like this for an aperitif before a Sunday afternoon's raping and pillaging..
I can only take party time and mingling in short stretches so when the band took a break I made my excuses and crept away.
Leaving Wednesday would make my stay a full ten days at Canela. Long enough to feel like I was leaving home again after getting to know the town and its people.
My plan was to make for Nova Petropolis and then down to Tres Coroas to visit Filipe Rosenthal and his family whom I'd met at Princesa dos Campos but he told me they would be going away the coming weekend so I made Tres Coroas the next destination.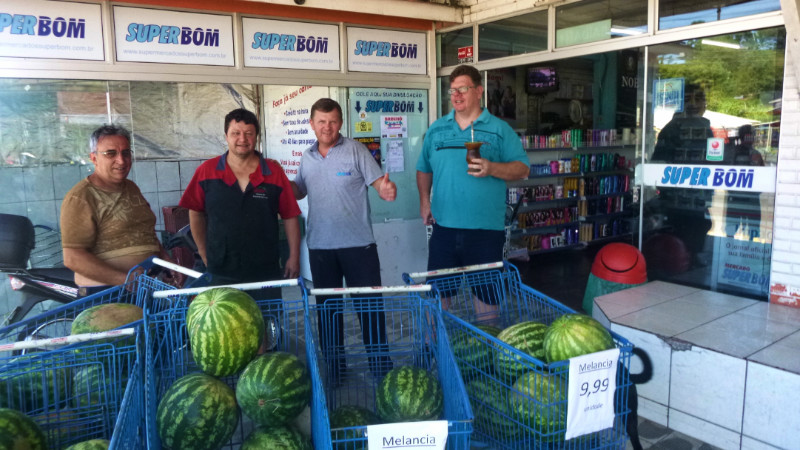 I packed late, since Tres Coroas is only 20 miles away, and stopped in at SuperBom to thank my good friend Geraldo and hoped to see him sometime whenever or if ever I'm near Canela again and cruised through Canela and out the other side toward Tres Coroas.