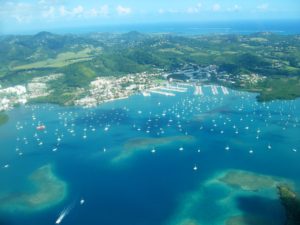 28th December 2017
The first time since Glee, I was the skipper of a vessel, except this one will be off its mooring ball. Herbert and I deposit Thomas and his luggage ashore at 10.30 and we refill our water tanks. We arrange to meet at Kokoarum after returning Pantelisa to the mooring. All set, we fire up the outboard and it dies within 30 seconds. I've already let go of the line and we are drifting with the wind toward Mexico. Our Aussie neighbour on Aegis was watching, probably with some amusement, as we paddle Hawaii 5'0 style against the trade wind and the Aegis tender comes to rescue us. An hour and a half later of spark plug cleaning and pull cord workouts we hail the capitainerie on the VHF who tell us 5 minutes. 20 minutes later I call again and they say "We are too busy" Empty promises from officialdom strikes again. We flag down our nearby Neighbour, Thomas on Shiraz who kindly ferries us and our dinghy ashore.
The consensus is that we have a carburettor problem and we add the task of repair to our growing list of issues. We bid farewell to our former skipper and set about planning the time we need for chores and travels. Ideally, we want a Marina spot and Martinique fails to fulfil our needs both here at La Marin as well as at Fort De France. We feel like Josef and Mary returning to Bethlehem for Christmas. There is no room at the inn.
I'm not too taken with Martinique. Whilst it isn't hostile, it is too crowded and too busy for my tastes. I feel no empathy either from or toward the place. But at least we were ashore and I set about compressing and uploading my Atlantic vlogs to youtube and planning a resolution to our transport problems. The sole available outboard mechanic (Meca' bats) can only fit us in next week. I ask about some carb cleaner but the mechanic takes time to explain the intricacies of the Yamaha four-stroke carburettor. I abandon the thought of a DIY carb clean pretty quickly. The results of our efforts to coordinate and resolve our various problems are mixed. 3 steps forward and 2 back at the very least.
I check the winds on the internet and make a tentative plan to sail up to St Martin where I know I have allies and I can reunite with some good friends. Herbert is up for it. He's already put a lot of trust in me as a skipper and I've so far proved myself with manoeuvrability around the harbour and docking to the buoy and thinking ahead before acting (apart from letting go of the dinghy line before the motor was running).
Herbert and I feel slim reward for the day's efforts as we dine at the internet table at Kokoarum. I settle for a chicken burger in the absence of all their vegetarian options. It's either chicken or grass. We head off back to the dinghy tied up near Meca' bats about 9pm.
Passing the dinghy dock at Kokoarum, we spy a couple either mooring up or unhitching their dinghy and decide to abandon the walk to our own and try our luck to find prompt sanctuary aboard Pantelisa for the evening. We meet Byron and Katie who are only too pleased to give us a ride, especially as it's pretty much on their way to their own boat, Ceylon. They remind me somewhat of Riley and Alayna from Sailing La Vagabond. Fellow free spirits that take a bold step into the unknown and work life out as it happens. We had the pleasure of sharing a beer with them onboard Pantelisa, brightening up a dreary slog of a day.
I awoke at 2 am, a little hungover, and set about sorting through the options for escaping the mooring field. Predictwind.com's animation puts the wind direction swinging from the south-east after 2nd January. That puts the mockers on making it back to Martinique from St Martin for collecting Rolf on the 6th. Plan B. There are nice marinas down at Grenada and the wind direction is friendly both ways between now and the 6th so that's what I propose to Toni, the owner. The answer later in the morning would be no, he has a better idea.
30th December
Katie comes by to take me and Herbert ashore at 7.30 and we three share coffees and a green tea. True to form, the waitress brings black tea and says "We have no green." These little signs that life isn't currently 100% in alignment. I tell her I'll take the bag out early so it's only light brown then. I set about reigniting the todo list and call Toni. He thinks we can make St Kitts and back before the wind changes and we can collect a dinghy from a friend of his there. I feel like an employee and agree although the plan is sound. I've not set foot on St Kitts before and Herbert is up for the challenge so that's what we commit to. With that commitment, a lot of stress and uncertainty dissipates. I feel good about escaping Martinique and good about the mission ahead and head toward the capitainerie to settle the bill and clear out.
Halfway through clearing out, Herbert comes in and tells me Toni says we don't need to clear out as we will pick up the dinghy and come straight back to Martinique. So we abandon the computer terminal and leave.
Thinking about it, it makes it difficult to get ashore anywhere else, like Nevis to see a friend that owns a beach bar there. We will have to be outlaws to do that. Cest la vie!
We retrieve our dinghy from the dinghy dock without even bothering to try and start the outboard. A French couple is just leaving and Herbert uses his best French to secure a tow back to Pantelisa. The members of the sailing community, really are gems. Everyone is so pleased to help their fellow mariners without thought of reward. It's an attitude that seems embedded in the cruising world.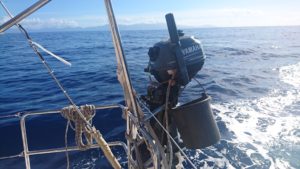 We immediately deflate and pack away the dinghy and put the 'bucket holder' on its frame. Everything here must have a use. We slip the lines at 12.45 and then follow the convoy exiting the channel from the harbour to the open water…