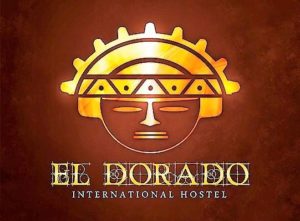 Feb 14 Wednesday
7am and I had remembered I had volunteered for Kambo. Why? I didn't need it for anything in particular. Said it, do it!
Three yoga mats were spread down by the river bank. Graciela was next to me. Three points burned into my arm. "Put your hand up if you are going to faint OK?" I passed out last time, about a third of people do, apparently. "OK," I nodded.
Greg was playing the guitar, and that with the sound of the river flowing over the rocks was soothing for the soul. Ryan said he was going easy on me OK? OK. Six cups of water were hard to down and that in itself already had me feeling nauseated. My stomach as full of water to the point I felt that drinking any more would come up my throat and leaked out my ears. The Kambo was applied and ten seconds later, I felt my heart beat harder and heat rise in my face. Hands started to tingle. Head swimming. It was a long time before purging. I kept sipping water and then it came. Such a relief, so much easier coming up than going down. I sat for a short time while the effects slowly wore off. I looked across at Graciela, her head was down, she didn't look back. Greg quietly strummed a calming song as we passed through our experiences. Almost a lament.
After some reflection and a prayer of thanks, I stood and emptied the bucket into the bushes and went for breakfast feeling cleansed, happy and energised. I'm glad I participated, it was easier than last time. I knew what to expect and it truly felt healing. I thanked Greg for the music and he said: "I watched you die, man." I didn't know what that meant but it sounded like a nice compliment.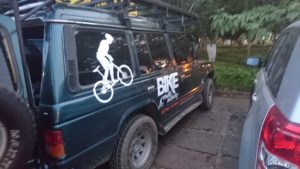 Steve asked how it went and I said it was good, better than my first time although I nearly passed out. Ryan said "Actually, you did. You were gone for a couple of minutes." I had no recollection of that but it made sense of what Greg had told me: "I saw you die, man." Nothing in my memory, dreams or otherwise. It was like two minutes had been cut away and life seamlessly spliced back together so all I experienced was a blink.
After breakfast, we sat around the table in the new Maloka for a final gathering as there were so many of us leaving. Greg gave me a gift of tourmaline quartz, as he was so moved by my Kambo session. I was honoured.
I took a final bath in the river and got my bag ready for leaving for the town
Fabian arrived in his 4×4 to take us to San Gil and we piled our bags onto the bike racks on the roof and rocked and rolled our way down the track into town.
Dropped off outside El Dorado. It was about lunch time so we all walked a few doors up to Gringo Mike's American style restaurant for a farewell lunch, before Ryan, Rike and Greg left for Aloha Ke Akua.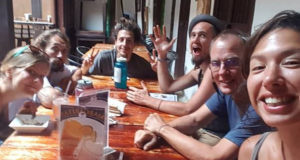 Living simply out in the countryside with wonderful fresh food is beautiful but eventually, small things become luxuries, like chocolate, cookies and even dry crackers and it's easy to overdo it landing back into so-called civilisation. And so:, onion rings, veggie burger, fries, frappe and 70% chocolate brownie was scoffed to the point of nausea.
The next few days, people I knew came and went while I caught up on some writing. El Dorado is a hub that our little community seems to use as a meeting point while in town. I like it like that. Quiet enough for space for myself with healthy amounts of social contact. El Dorado is only about twenty metres from the central Parque Principal of San Gil but the street is relatively quiet.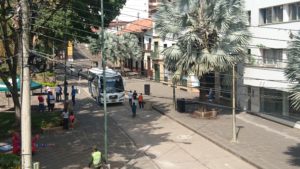 Out in the park, families mingle and children play. Police are on the streets but they are there quietly watching their community rather than for issuing fines and penalties and generally milking the public. there's a safer feeling here than back in the UK. The people appearing more friendly and generally happier.
Mika joins my dorm. It turns out he knows Mike and Melissa and is aware of some of the places I've experienced lately. As large as Colombia is, it's a small world.
Stepan is from the Czech Republic and has lived in Colombia for three of four years. Paul my tocaya (namesake) from Chicago arrives and the three of us enjoy some time around the Mambe table. A mambe circle is a sacred and special gathering. It's what going down the pub promises to be and fails at.
Ambil is a tobacco paste and we honour its spirit, the spirit of grandfather tobacco before taking it. Ambil is masculine and gives clarity of thought. Mambe is feminine. Ground Coca leaf and brings sweetness of words. The combination brings respectful communication in both speaking and listening.
It didn't taste great at first, but then again, neither did beer.
The next day at 10.30 Stepan takes me to his studio on the back of his bike and treats me to a Shiatsu massage. The suite in his villa looks out into the Santander hills and the sound of birds and crickets sweeten the warm mountain air. The massage is unusual in that some preparation in cleansing the energy is attended to first and I take some rapê to relax the mind.
The process is holistic and attends to mind, body and spirit. At the end of the session, I fell asleep on the mat. It's hard to tell how long I was there for but I was ready for lunch when I got back and headed to La Balcon for a Pizza.
Connie joins me at El Dorado later. Connie is German but sounds South African because she lived in Botswana for years. She is an inspiration and on an intensive Kambo treatment. She was a powerhouse at the farm carrying 5 metre long bamboo poles down the mountain down to the camp, inspiring us guys to try and keep up, making short work of the stack of 200 or so.
Connie suggested a great Pizza restaurant around the corner for dinner together. I didn't mention I had already had one for lunch but just said "That sounds good."
I'd not had pear and blue cheese on a pizza before but it was really rather tasty. I was surprised to find the proprietor and the man sitting behind me was communicating in German, adding to the many German speakers I had been encountering so far from Europe.
I could have been speaking German by now if I wasn't working so hard on Spanish. I find learning another language difficult. English is bad enough. Bree, at La Finca Neuvo Horizontes, gave a grammar lesson which helped make sense of the verbs. Why have 5 different words where one would do, and why do words have a gender? It's going to be a long haul with a language that has the same word to mean either Pope or potato.
Any comments, feedback or suggestions are gratefully received. Please add one using the comments link below.