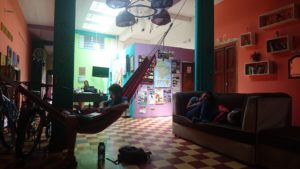 I've been out of the company of good friends for a while so feel like some camaraderie. I like solitude but it can get too much sometimes. "Don't go for comfort," Ayahuasca told me. Solitude is often comfortable for me but not long term.
Now that Cartagena was out of the way, what are my options? Well, there is a motorbike for sale in Cusco, Peru. Peru has fewer restrictions on bike ownership than Colombia, so it would be easier to get one in Peru. I like the sound of biking around South America but I also want to return to the UK for the Summer. Where would the bike go in the meantime? Perhaps better postponing that one until Autumn but will I return? These are the ramblings in my mind at the moment. These savings aren't going to last forever either but my new spiritual wisdom tells me not even to worry about that. Focus on the moment we have now.
The bus pulled out of the terminal at 17:45 with three of us aboard. Bonus, I could stretch out and scatter my laptop and cables across the seat next to me. I awoke in Barranquilla in darkness with crowds of families clambering aboard with flapping blankets and bulging bags. I gathered up my belongings allow space for a man and his rucksack and squeeze myself up against the window. Barranquilla, only 14 hours left to San Gil. I slept as best I could and read my kindle books between times while my knees began to ache with lack of space for movement. WiFi connection was strong to the router but internet wasn't connected from the bus to the outside world. Read Kindle.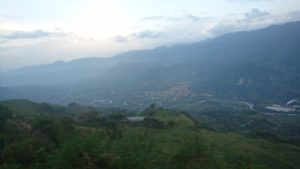 I awoke with my head resting on my shoulder, dribble on my jacket and a neck pain that warned me not to straighten up too quickly. It was daylight and I recognised the valley from the trip before. 7Am, we were just North of Bucaramanga. Gisela lived here, I should have checked whether she was back here or still at La Finca Nuevos Horizantes near San Gil. We get on well despite the language barrier, neither of us speak each other's language. An opportunity for accelerated learning, perhaps.
The mountain ridge extends from a few hundred feet above sea level to over 6000ft and the smooth ribbon of asphalt winds along the mountainsides along the crest and down the other side. Bus drivers like overtaking, even on apparently blind bends and we power pass straining trucks and lycra clad cyclists pumping stringy legs up the endless inclines. I try not to look out at the sheer drops just over the other sides of the barriers but I'm compelled to check through squinted eyelids.
San Gil is familiar ground to me now and I catch the bus from the terminal into the centre. I needed internet for checking out hostel options so settled for a breakfast burrito at Gringo Mikes. I had been to El Dorado before and the phrase "Don't go for comfort" echoed around my mind. All the hostel's looked comfortable. I felt I should go somewhere new but I remembered I was hungry for Familia: community. El Dorado was the meeting point for the La Palmita/Nuevos Horizontes folks I had left behind so settled for that.
I walked in and Melina at the desk said "Paul, you're back!" with a welcoming smile and I noticed Mitch and Steve catching up on Skype calls. Mitch had returned from the UK only yesterday and we enjoyed a mini-reunion at El Dorado. It was good to be back and absolutely the right choice to come back to El Dorado. It feels like home. Mitch asked if I was going to the farm. "We are drinking Ayahuasca tonight." No, I didn't feel the call and, anyway, I was still processing from the last experiences. I'd stay at El Dorado…
I shouldn't have chocolate or coffee since they are migraine triggers. The coffee here is free and delicious. Bogota, Medellin or Cartegena do not seem to have decent chocolate like San Gil. Santander chocolate is world class and seems to be only available locally. I crossed the square to the minimarket and gave Melina some of my chocolate biscuits on the way back in. She said she had the same room for me, a 3-bed dorm with no other guests. I spread the contents of my bags out onto the neighbouring bunk intending to sort through the dead weight that I no longer needed but then left it until the morning. Last minute, as usual.
It's warm enough to sleep without covers here so I laid on top of the bed in shorts and Tshirt. When I got up and tidied my things away, the room looked already made up. The laundry was in and I was packed and ready for a ride to La Finca. Mitch was due sometime today.
There was an email from Nikita in Cusco, Peru. He is selling a Yamaha YB125 cheaply since he has completed his South American adventure and ready to go to Africa. Riding around the Andes appeals to me and I investigate the journey to Cusco. Nearly 4000km and 4 days bus journey.
I settled into the hammock with my laptop and waited for Mitch. I had all day to catch up online so it didn't matter when I was to be picked up.
Later, Luis and Miguel arrived at El Dorado: Sunday is their day off and they kicked back to watch a movie. Miguel told me there was a problem with the car so Mitch wouldn't be picking me up. "Maybe Tuesday." I booked another couple of nights at El Dorado and walked next door to Gringo Mike's for a quiet dinner for one.
Monday. My schedule was clear, which usually invites overwhelm as to do lists start to condense into the empty space. Blogging; what was it going to be like retreading old ground? I thought to myself "If I'm going to become an interesting writer, I need to be doing interesting things to write about." I emailed Nikita to say I was interested in his bike and I would leave San Gil Monday to travel down to travel down to Cusco by bus. Imagination filled in the uncertain future story with scenes of bandits chasing me through the jungle and landslides washing me off the sides of mountains. Yes, it would be exciting but not in the way my mind paints it.
Tuesday morning and there was a knock on the door. It was 8 am but I was already awake. It was Mitch "Are you ready, we are having breakfast at Betty's on the corner if you want to join us then we'll go to the Finca, yeah?" "Yeah." I got up and dressed and walked down to the cafe on the corner…
We stopped at La Palmita on the way to pick up some things and noticed Michael from New Zealand was there. He was part of my Aloha Ke Akua family and had arrived in San Gil yesterday. Miguel was staying at La Palmita so there was plenty of space for the Finca supplies, Mike and me.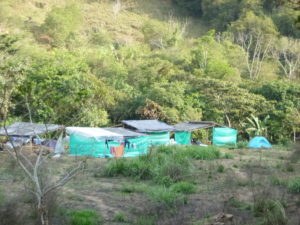 Walking down the track from the entrance, I could see the guys had been busy. there were a number of new structures and the tents were now under cover since the ultraviolet rays cause them to leak after a time in the sun.
Connie was there laid out in the Maloka. She was reacting badly to the Kambo treatment and returned to San Gil with lack of energy and swollen lymph nodes. It seemed like a viral infection but she wasn't sure. As the days past, her energy returned and she made a steady recovery.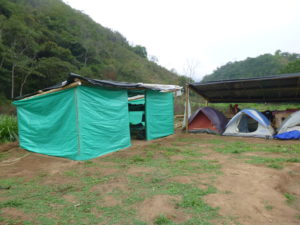 There was steady activity in one of the new structures with new bamboo uprights being erected under a plastic roof. I helped Mitch with some cross members and retired to the Maloka after lunch while it rained. At the end of the day, there were 2 new sturdy bunk beds assembled and ready for guests, not realising that this was for me and Mike.
I felt very grateful but a little guilty that I didn't put a little more effort into the assembly. All in all, I felt like I was home again.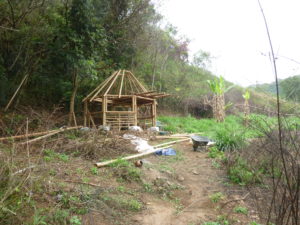 Over in the trees, I noticed a bamboo framework of a new structure. This was going to be a permanent cabana for guests. This looked like an interesting project and I decided to commit myself to help with the construction while I was here. After all, it would only be three or four days work before I have to leave for Peru…