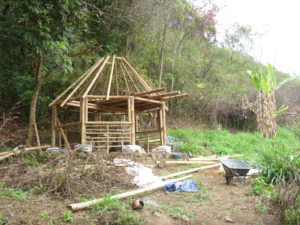 Helping build the cabana was hard work and it was highlighting my lack of fitness. Bending, lifting and climbing was physically draining although regular water intake and mambe helped fuel me for the workday.
Thursday saw the arrival of Vladimir and Daniel. Daniel was experienced in cob building, He arrived just after we had been talking about cobbing the walls. Luis said people magically appeared just as they are needed. What seemed like magic to me seems like hard reality for Luis and Miguel.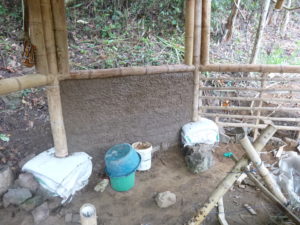 Though the work was hard, working with such a group of positive people was fun and fulfilling.
By the time Saturday arrived and there was to be no work to be done, I missed the physical activity and the camaraderie shared in working on a shared project. Tonight was to be an Ayahuasca ceremony held as a farewell to La Palmita. Miguel and Luis were ready to move permanently to Nuevos Horizontes.
Miguel asked me if I was drinking [ayahuasca] and I replied that I was in two minds as I didn't feel the need. He told me that they hadn't had a ceremony since I was last here and that I happened to have arrived at the right time, so reflecting on my philosophy of following signs and omens I accepted the invitation.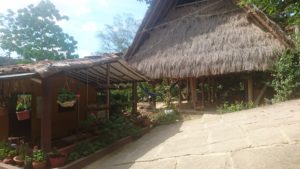 All of us would be staying at La Palmita but I would continue to San Gil the next day to embark on my journey to Cusco, so I packed all my things together with pillow and blanket and took them with me.
It was a long lead up to the ceremony as people arrived at La Palmita throughout the afternoon and into the evening. I gathered some firewood from down by the river. I felt hungry and thought about how close we were to San Gil and its restaurants. Did I really want to feel nauseated throughout a restless night camping out on ayahuasca when I could be tucking into a pizza and some wine followed by a good night's sleep in a comfy bed?
I felt nothing this session apart from the laxative effects the lasted the following day. I slept a little but felt tired and a little nauseated. I enjoyed spending time with the people around the fire but felt disappointed that there were no messages or revelations. I awoke early but it was after dawn, maybe 7am. All was quiet and I thought everyone had left but discovered people tucked up sleeping all over the place.
It was lunchtime before we were ready to leave and we were all hungry so arranged to make our way to Gringo Mike's for burritos. I dropped my bags at El Dorado and enjoyed the company of my Finca Family for the last time before heading south again. Tomorrow was to be a bus ride to Bogota with a connection of unknown time to Ipiales.
The food was plentiful and satisfying and we retired to El Dorado. Me for my last night, Bree, Connie and Daniel for a taxi back to Nuevos Horizontas.
I wanted some chocolate to take with me and the local supermarket was closed. Bree told me about the mall and huge supermarket across the bridge I had never seen before. There was no local chocolate but peanuts would keep me energised for the journey.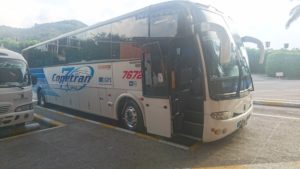 I awoke before 8am and spent some time online before packing. The plan was to catch an early bus to Bogota for making sure of arriving to open ticket offices there. It was gone lunchtime before I finished online and ready to head to the station. In fact, I thought maybe I could stay at El Dorado just one more night and go in the morning but decided to be proactive and just go. There's a bus every hour to Bogota and I'd missed the 15:00 by four minutes but a fifty six minute wait isn't too bad, even though it put the departure at 4pm. It's six or seven hours to Bogota so it was looking like a midnight arrival.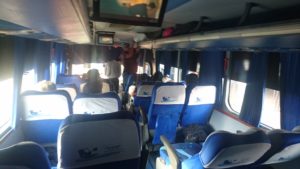 The bus was late and we set off at 16:40. No use worrying about the connection. Just have to see what happens when we get there. My patience has been tested and been found to be resilient.
The ride was comfortable and not too crowded. It was too early to sleep so maybe a night bus might have been a better decision but then what about the mysterious connecting bus? Shut up, mind, relax and go with the flow.
It was past midnight as we rolled into Bogota Terminal. The arrivals building is long and narrow with vendor's stalls along one side. On its own, it's almost as big as some bus stations in the UK except that I knew from my previous visit there was another part somewhere else that was at least the size of Waterloo station. Although it looked like a dead end, zooming in on Google maps revealed the northern end of this part of the terminal turned left down a passageway and joined up to the bustling departure terminal. The passage was like a mall with vendors kiosks lining the edges. Emerging into the hall, most ticket offices appeared manned and cleaning staff were busy ferrying polishing machines up and down the tiled floor, while itinerant travellers lugged their bags between cafes, benches and toilets.
I picked a random Kiosk and asked "Autobus por Ipiales?"
"No, Bolivarteras!" She said pointing to the far end of the terminal. There were three large halls here, all bristling with ticket kiosks.
"Escribe?" I asked, and she wrote out the name and off I wandered to match the text on the paper to the text on the signs.
Bolivarteras was tucked in the corner next to the departure gates annexed to the last hall and there was a lonely looking official enclosed in the kiosk like an attraction at a zoo.
"Uno por Ipiales"
"No hasta las ocho y media."
"Si, Uno por favor." trying to make a sign for one-way resembling a nazi salute.
It was now 00:30 and the bus was due at 08:30. 'This too shall pass' came to mind and I sat down for an hour until my decreasing body temperature urged me to go and look for a coffee. It was a long night serenaded by cleaning machines and distorted announcements by the various transport companies.
I still nursed the laxative effects of the ayahuasca but fought the urge to visit the toilets at one thousand pesos a throw. I broke out the tablets that Thomas gave me that combats that sort of thing. It might not act that fast but I didn't want to be vulnerable on the bus either. I managed to only piss away two thousand pesos…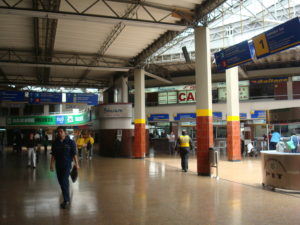 It was a slow sleepless eight hours as I watched the daylight slowly chase the darkness away and crowds gather for the various buses pulling into the bays. The bus to Ipiales was packed and I was behind a family with three young kids. My fingers were crossed for a peaceful journey. I quickly visited the bus toilet, as I was intent on saving another thousand pesos by avoiding the services in the terminal, and then settled in my seat hoping I wouldn't need to go again looking at the state of it.
Ten hours, according to rometorio.com, and I would be in Ipiales. That's about 6.30pm. The Senorita to my right helped with the WiFi password as I had no clue what the driver was saying and I logged onto Hostelworld.com to look for hostels in Ipiales: nothing. Booking.com? Success. Hotels but at hostel prices and I booked a room for 5 nights for under a fiver a night. I estimated check-in about 9pm to give me some leeway and I sat back in my seat to while away the hours as the bus pulled out into the peak morning traffic under the low, grey Bogota sky.