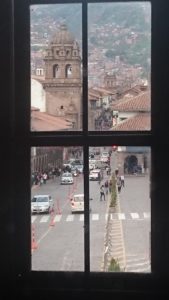 I chose the shortest route from Lima to Cusco via Nazca. Fear mongers related stories of bandits holding up coaches in the Andes where there is no cell signal available for calling for help. The last reported case I could find was in 2013, 5 years previous. Being held up looked extremely unlikely, to me, despite sensational internet reports.
Dusk fell by the time we made it out of Lima and not much could be seen out of the windows. It would be daylight before we reached the mountain passes and until then I tried to sleep as best I could.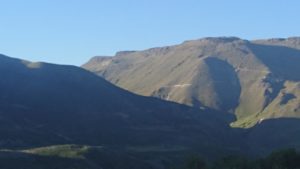 With the light of the dawn, the mountains presented themselves in their majestic beauty. The road lay like spaghetti dropped down mountainsides into the valleys. Pressing my head against the window, I could see traffic ahead and behind. the route is not as deserted as I expected. Any bandits would have a hard time remaining anonymous, at least at this time of day.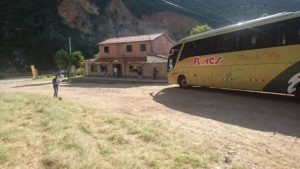 The excitement of stopping for breakfast was brief. I wasn't hungry and the coffee I looked forward to did not exist. Instead, I kicked over the car park gravel, warmed by the early morning sun until the bus driver was ready to thread us through the Andes again.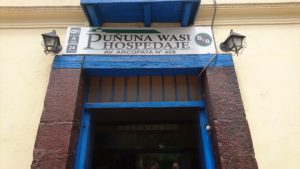 The bus rolled into Cusco Thursday afternoon at 3.30pm. Tour guides thrust leaflets into our hands. "Cheap Hotel 70 Soles?" I wanted cheaper. "40 Soles?" that was OK and I was escorted to an eager taxi and ferried to the hostel Pununa Wasi on Avenue Arcopata.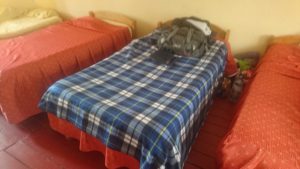 "Lo Siento," no room. Dorm for "15 Soles?" Perfect, about £3 a night. The dorm was spacious but basic with painted creaky floorboards, 8 single beds and some ill-fitting raggedy curtains limp at the window failing at masking the daylight and the sound of tyres rattling along cobbles of Arcopata, and the random honking of taxis and buses. There appeared to be no more than 2 people currently staying. I later learned that that meant nothing since backpackers arrived at all hours by air and bus for Machu Picchu, stumbling around looking for mains sockets for phone chargers before settling down to sleep.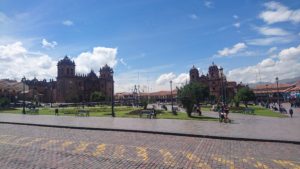 I skate across the polished volcanic cobbles in treadless trainers toward Plaza de Armas, the main square, at noon the next day to meet Nikita. He didn't recognise me since I hadn't updated my facebook picture since I had opened my Facebook account 10 years previous. We walked to where the bike was parked and gave me a ride up to Temple de la Luna where his AirBnB overlooked Cusco. Anastasia made me muna tea and we talked about the motorbike before taking it for a test ride.
There was paperwork involved and we resolved to tackle that Monday. Until then, I had the weekend to myself.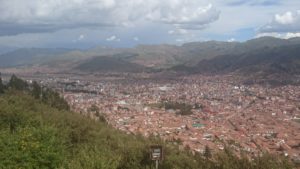 Cusco lies in a long valley at 3,400 m (11,200 ft) elevation and has t shirt weather in the day with a British spring-like chill during the night.
Monday came and I waited at Migraciones at 10am for Nikita. He was fifteen minutes late due to queues at Sunarp where they register the owner of the bike.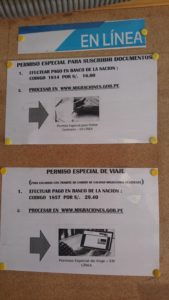 Now we needed a stamp in the passport from Migraciones. The queue eventually delivered us to a Spanish speaking official that told us that a stamp was not necessario and pointed to a notice at the front of the office. We should go to the Nacional Bank and pay 16 Soles where they give us a ticket of code numbers for completing an online form.
The bank was heaving with multiple queues winding back and forth normally only seen at US airport immigration terminals. There were counters to the left and the right and aline at each. We split up to stand in each queue. Nikitas was far faster and I joined him before my queue rounded the bend into the third tier from the front. Within 20 minutes we were strolling down the road to the nearest internet cafe with paper slips in hand ready to complete the form and print out the paper.
The straightforward form only failed at the security 'captcha' script that asked to type in a series of distorted characters to make sure we were human and not hacker's programs. It took several attempts to validate mine and print out the resulting document but Nikita's was firmly refused. Eventually, we noticed that the bank clerk had missed three digits out of his passport number.
Nikita marched back to the bank but the clerk was unable to retrieve the data from the system. I returned to the Notary while Nikita walked back to Migraciones to try and sort it out. The notary insisted that we needed the passport stamp from the Migraciones so off I went back to Migraciones to double check. Twenty minutes queueing and happily finding an English speaking official confirmed that the notary was mistaken. The printed document was all we needed.
By now, the sun passed its noontime zenith and the Notary closed for lunch until 3. Anastasia had a class at three so she departed after we enjoyed a Peruvian lunch together while Nikita and I returned to the notary. We inherited a new clerk who accepted our documents without insisting on a stamp but told Nikita he needed another form from an office around the corner. I waited at the Notary while this new hurdle was overcome. 20 minutes later Nikita returned, fairly irritated. They told him that the document he was asking about was only required for cars. Motorcycles didn't need it.
Fingerprints and signatures were submitted, indicating progress and all looked well until it came to light that Nikita had bought the motorcycle after his marriage date which necessitated his wife's signature also, even though her name does not appear in any documents. Anastasia had been sitting here at the Notary for over an hour that morning and now she had gone to her class. We had reached a five-minute impasse. Eventually, we made it clear that the 'M' indicated in the passport meant gender 'Male' not marital status 'Married' and so the confused clerk overlooked the pointless marriage rule and completed the paperwork.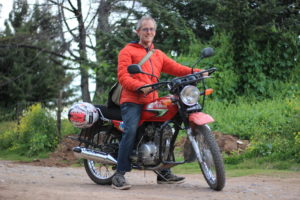 4pm, not a bad days work and now I was the owner of a Yamaha YB125 in Peru. I was set to go. After returning Nikita home, I rode back along the cobbles to the hostel and parked the bike along the passage next to reception.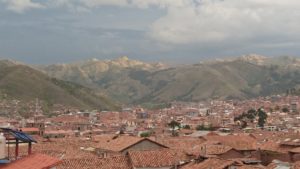 Rosalie was coming to Cusco next week so I thought I'd hang around and enjoy a brief reunion. As it happened, I liked Cusco. There is a lot to see and it has a nice laid back vibe. Besides, the hostel was a quiet place to look into establishing an online income and between bouts of procrastination and idleness, I set about prodding around with that possibility. I soon found out that long periods online sap the spirit and whichever way I was going to go, creating an income without lapsing back into a slave existence was going to be a long haul.