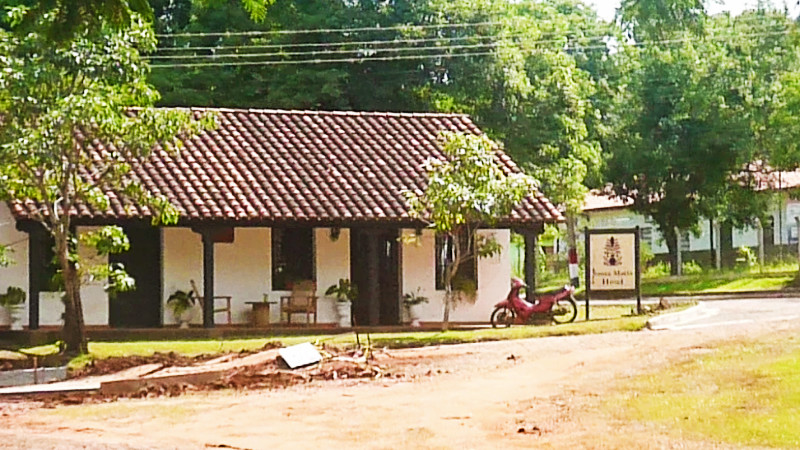 WEDNESDAY MORNING, 19TH December, I packed away the tent, skipping breakfast and quietly left Villa Florida without seeing a soul on the streets and pressed on to Santa Maria de Fe, which boasts a tree-shaded plaza home to Howler Monkeys.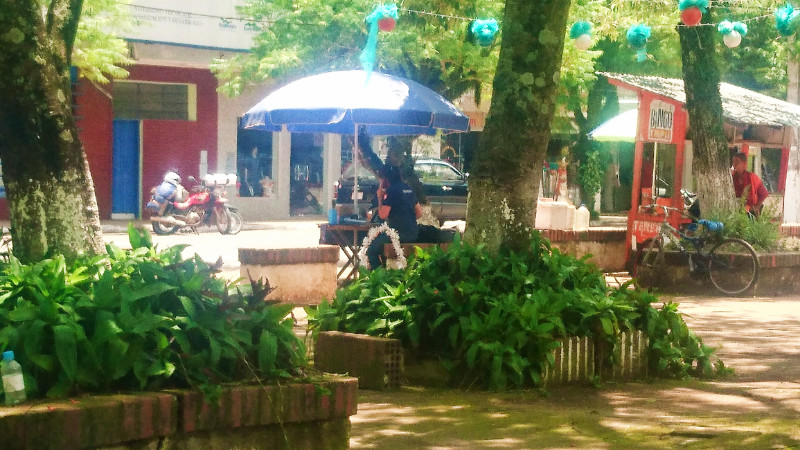 I took a break at San Ignacio in the shade of the trees in the Plaza, busy with vendors and commercial traffic rumbling along the main road on the northern edge through the town centre. the place was ripe for a bypass but maybe that would impact the traders around the Plaza. I was only here to rest and cool off in the shade and take a few slugs of water out of my bottle.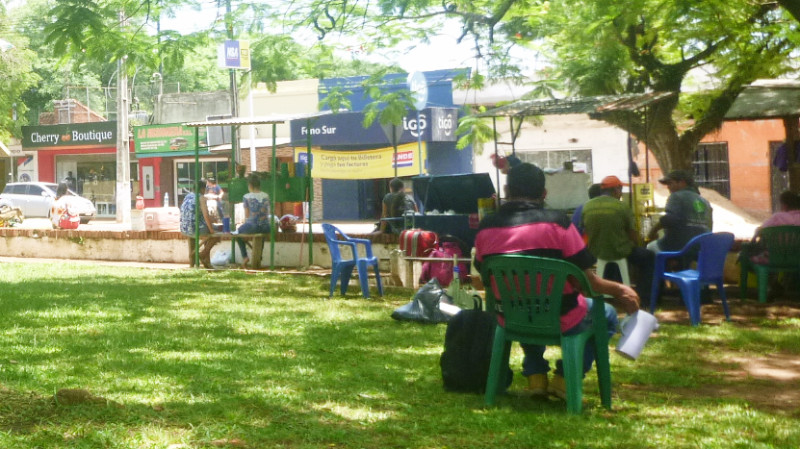 John told me to seek out Margaret Hebblethwaite who runs the only Hotel there on the Plaza. Kicking down the side-stand swinging my bruised thigh over the saddle and limping into reception, stiff from being immobile on the bike, I notice an older white-haired Caucasian and a young Paraguayan man and woman at a table. They were just serving lunch and I ask if they served food since I was hungry and missed breakfast. No, it's just for them, there is no public restaurant.
Milciades explained in decent English that there was no Margaret here and that he runs the hotel. After going into detail about why I was asking he then said yes there is a Margaret who originally founded this hotel but she lives on the corner over there. Close enough, I thought, and went to interrupt the lunch of another stranger.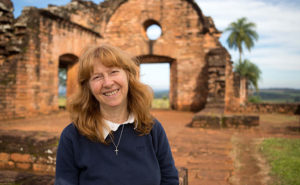 The door opened to a fair-skinned woman about 5'6″ tall with wavey, strawberry blond hair, wearing a friendly smile and a small silver crucifix around her neck. She reminded me of Deb but a little less ginger and a little more Christian. Margaret greeted me with a generous smile and apologised that she had just made lunch and suggested I sit and admire the garden before adding "Have you eaten?" I said yes, as it was more convenient than saying "No but I don't want to interrupt your lunch and if I joined you, I would feel uncomfortable and so would rather starve, thanks." I'd only intended to deliver John's greeting, after all.
After lunch and sharing a fruit salad. we talked about Paraguay, the Jesuits and the route I was taking on my trip. Margaret added, "Which Holland's does John belong?" I didn't really know as I only knew of one family of Hollands so I showed her his photo, which received no flicker of recognition either.
It reminded me of a time my uncle Terry told me to drop in on some relations when Debbie and I were passing Bridport. After inviting us to eat and us declining in preference for a cup of tea, Deb whispered in her plain speaking way, when they retreated to the kitchen. "They don't know who the f*** you are." We were on our second cup of tea and piece of cake before they asked who we were causing Deb to splutter tea into her saucer, and I attempted to revive a fairly long branch of the family tree with my father revealed as a rather small twig on the end of it. I think we succeeded at identifying a wedding we had all attended a decade or so previously.
Anyway, I'm sure if John were here, she would have recognised which of the Hollands by his exuberant presence.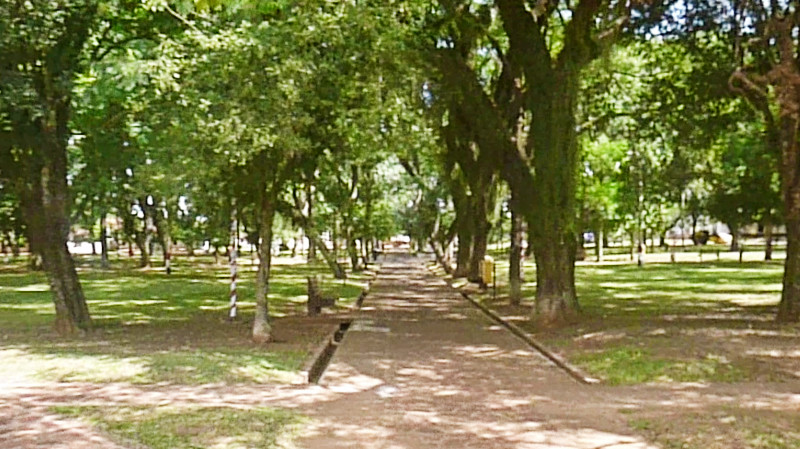 Margaret suggested I stay at the hotel for the night and join her and two English language students for dinner and a movie. I asked how much would it cost, remembering the plush decor of the Hotel and half anticipating "Oh for free as my guest." and instead, hearing "100,000 Guarani!" About double my budget but cheap for the quality of the place. Even so, I thought the invitation sounded too enticing to pass up and quickly accepted. One night wouldn't break the bank and went to check in and unpack at the Hotel. At 7pm I wandered through the domain of the Howler Monkeys in the plaza. "Quiet Monkeys," I call them. I didn't see or hear anything of them.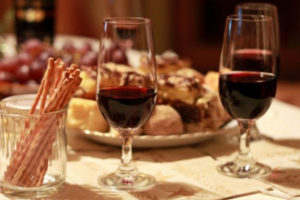 The home cooked food was delicious and being in company softened the callouses on my soul that solitude tends to form. A thunderstorm rumbled overhead during the meal, relieving us of the hot sticky afternoon air and cutting off the electricity in exchange for the favour. There would be no movie but the dinner and conversation over candlelight and abundant good quality wine turned out to be a much better experience. If anybody ever asks, "What would we do without TV?" This was it… starring in your own movie as yourself living your own script: the story of your life…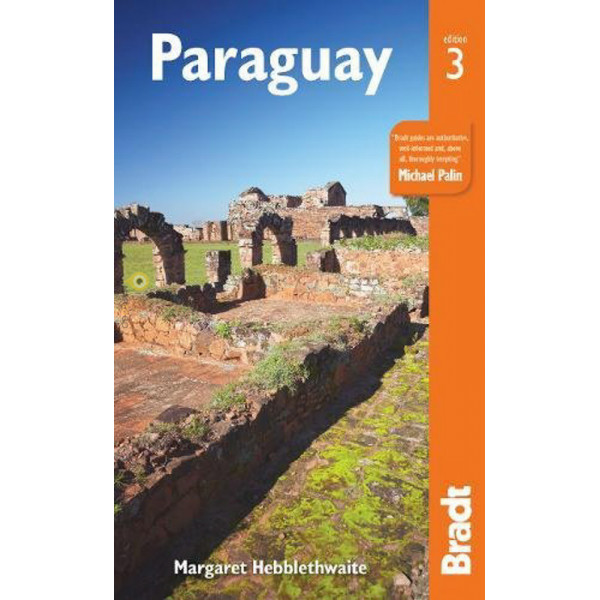 Margaret is the author of Bradt's Guide to Paraguay, jam-packed with information; far superior to Lonely Planet or Rough Guide so, in Margaret's company, I received a lot of well-researched and first-hand knowledge about Paraguay and especially of the Jesuit Reductions. Consequently, I augmented my plan from continuing directly to Encarnacion with a diversion to San Cosme y Damian where there stands a restored Jesuit Mission, Observatory and Planetarium. The evening was well worth going over budget for. Besides, I could camp in the wilderness with water and nuts if I ran out of cash but time cannot be reclaimed in such a way. I returned to the Hotel through the silent order of Jesuit Howler Monkeys feeling happy and content.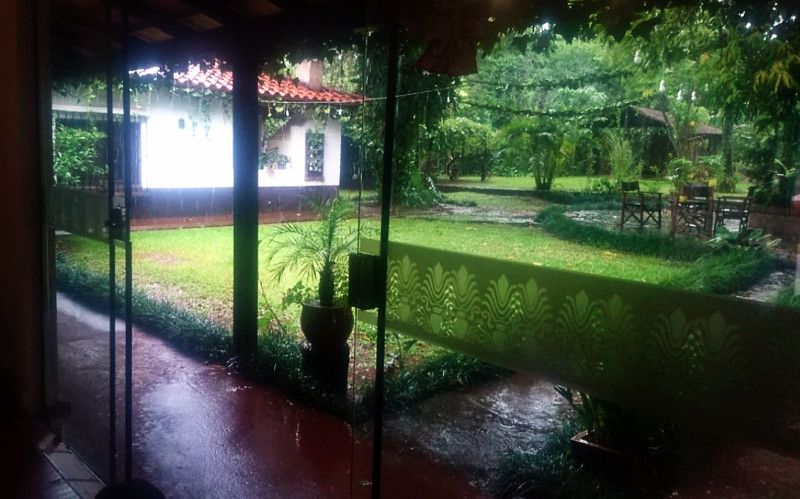 Muted light filtered through the window reminiscent of a grey British winter dawn. True to form, Sod's Law of Budget Travel No 3 kicked in:
"If thou art sheltered in accommodation above thy budget,
it shall rain forty days and forty nights.
Unless thine endure a proper soaking,
thou shalt reflect on thy folly until thy purse becomes barren."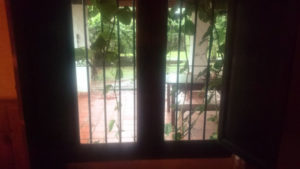 At breakfast, I checked the forecast on the Sony Xperia.  Rain another four days the screen told me but, as I discovered in Jardim, the forecast in this part of the world is as accurate as a wild guess. I eyed up the white-haired Caucasian man on the next table carefully spreading jam on a piece of french bread and dropping crumbs on the table with each bite. I guessed he was from Germany and researching his Nazi father, who's nickname was probably 'The White Angel,' and discovering his fate escaping to Paraguay after the war. Turned out he was retired Argentinian teacher on vacation from Buenos Aires and didn't say why he was in Santa Maria. If he did, I don't remember. We were the only guests here. Both solitary men on their own mysterious path in life.
I stayed another day holed up in the hotel room reading Margaret's guide to Paraguay. In the grey light barely making it through the window, it gave the lamp and the interior of the room a warm and cosy sepia glow like an old English cottage in the winter. After all, Christmas was only a week away. This was more in keeping than the boiling Capricorn midsummer heat. It was no hardship just to kick back and rest in the tranquillity of it all, and the rain was the perfect excuse to do just that.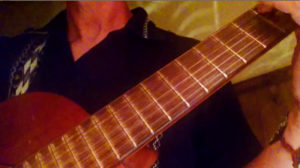 I'd spotted an old guitar leaning against the bookshelves earlier and recorded a couple of my old compositions and uploaded them to Youtube before I eventually forget them.