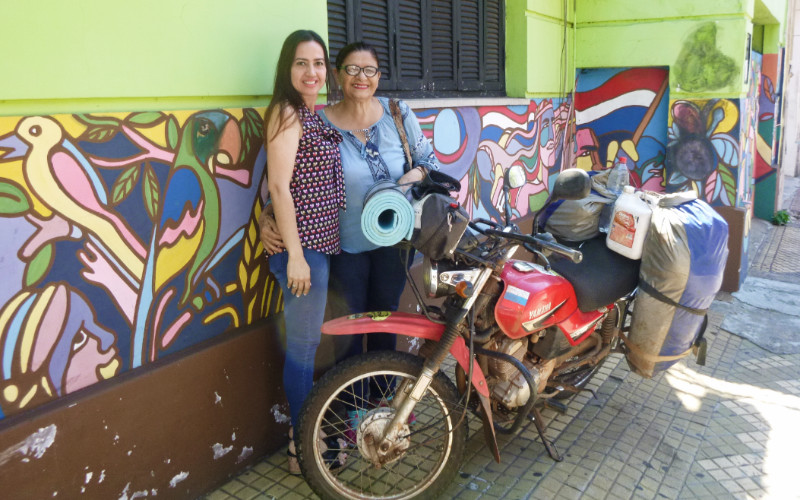 I ESCORTED JOHN to the Airport. Not to make sure he left but to savour the friendship of him and the others that he brought to me. another page, another chapter. Thursday, no point in moving until after the weekend. Monday, I'd go on Monday. I honoured the Bruderhof commitment of the Carol service, such fun in good company it was too.
Tucking into the buffet on the patio afterwards, we all got assaulted by tiny mosquitos. I was one of only a small band that retreated indoors and was one of the last to leave promising to attend the morning service the next day. When I woke up, I didn't really feel like going but I went anyway.
Turning along Mariscal Lopez, already unbelievably hot at 9.20am. The traffic slows and I notice a crowd in the road at a junction with a Policeman taking notes … a bike lies on its side. It looks like a Harley Davidson or similar. The traffic my side of the road compresses together and crawls along. As I idle past I notice a man on his side but face down away from me on the asphalt, no-one at his side. My assumption is that he is either unconscious or dead.
Earlier, I'd received a message that Roy Boughton, who I'd sailed with in the Caribbean, was reported in the national news as missing. It had been a while since I first heard about it but this seemed a confirmation that he was a goner too.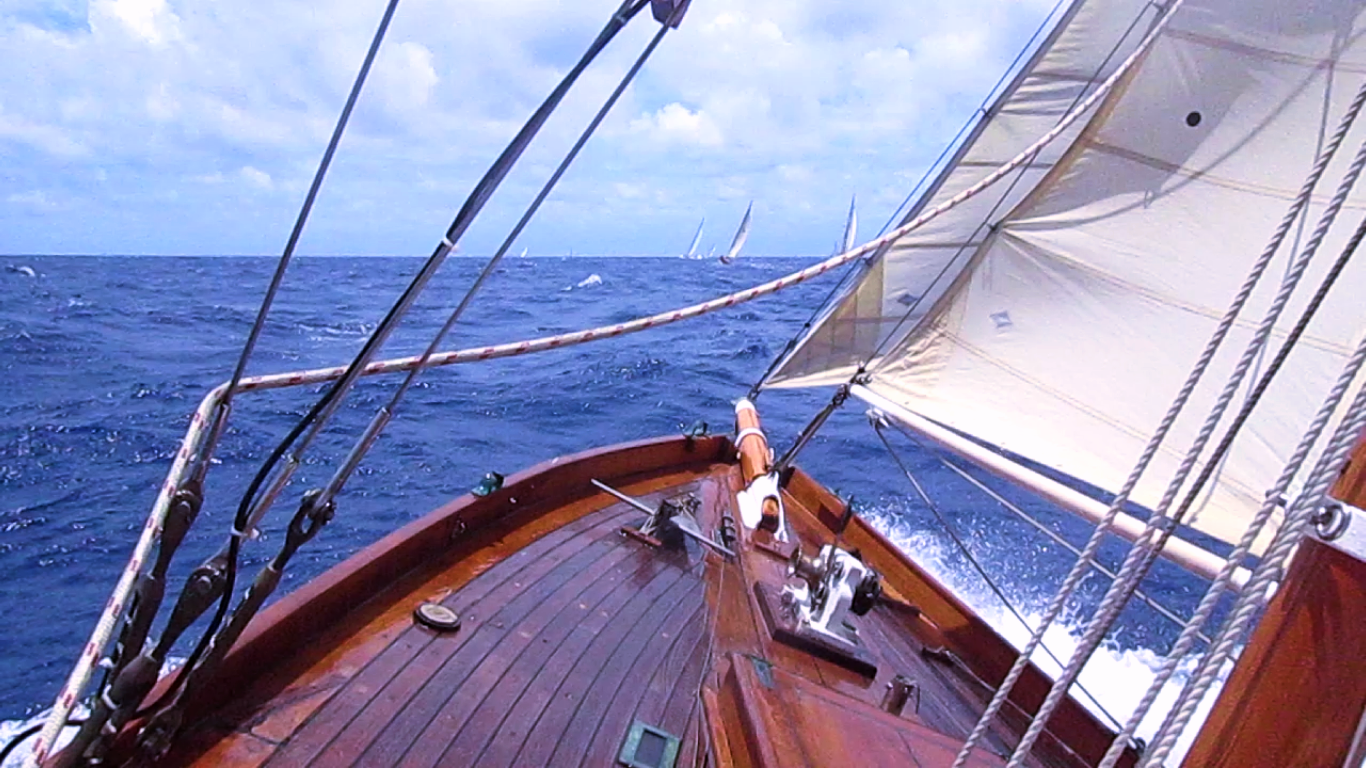 Roy had been to a bar for the evening, as he usually does, and heading back in his dinghy to his boat anchored in Rodney Bay, St Lucia… never to be seen again.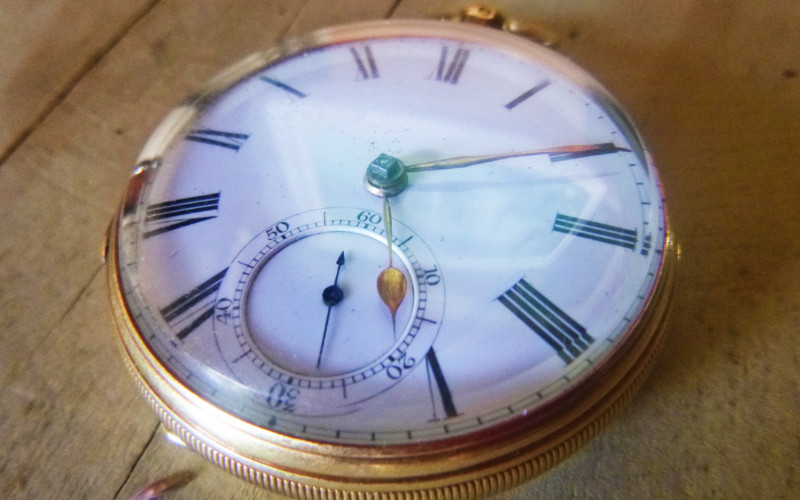 I say nothing about it at the service but it reminds me that our time here is temporary and it creeps by whether we are paying attention or not.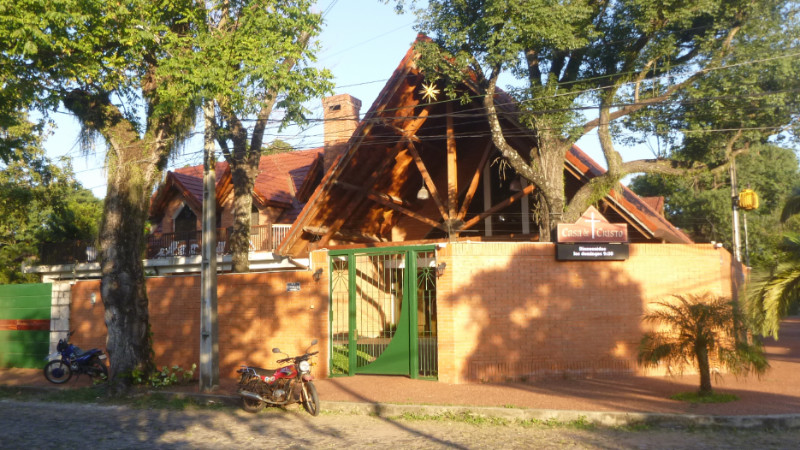 After the service and expressing my gratitude of everyone's generous welcome within the community, I headed for the Anglican church at John's suggestion and met the Bishop of Buenos Aires. I couldn't help bringing a chess piece to mind since I'd started playing online that week. I had just caught him at the end of his service as he had to rush off, leaving diagonally across the floor tiles to the door. I spend a few minutes speaking to Tim, his son, savouring the rich English language that knocks my translation brain cell out of gear to coast down communication's easy path.
Tuesday morning I bid my farewells to Gloria and the current guests in the ever-changing drama of El Jardin. Noni arrived just as I crossed the street for a final photo so I snatched one of Noni and Gloria together with my bike before setting off southeast toward Encarnación.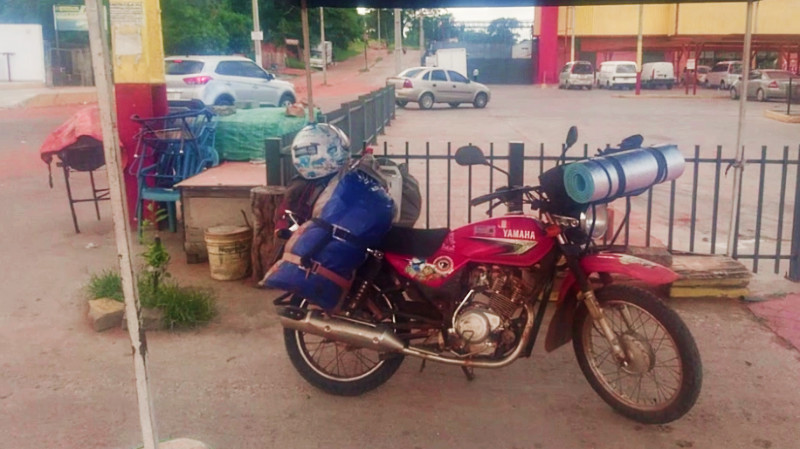 John had given me one final mission to drop off some money that Gloria gave me for Petrona's family in Nemby – kind of on the way. An alternate route and perhaps shortcut the main Ruta 1. I'd visited Petrona's house before but as a passenger so at that time, I magically emerged from an Aztec Gold Ford Escort on their doorstep without taking much notice of how I got there.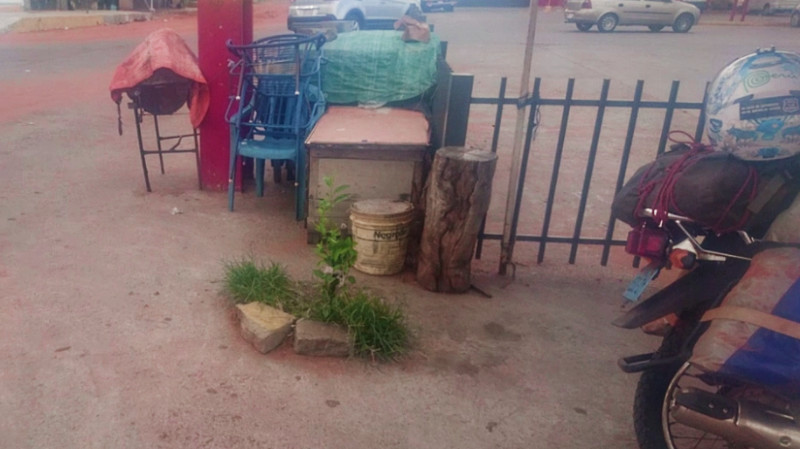 My phone beeped a location link in WhatsApp, but by just looking at it, I knew it was wrong: far too close to the main road. I'd found the neighbourhood but not the house. The proprietors of the local stores and despensas didn't know who I was talking about if they understood what I was saying at all. All the neighbourhoods looked the same in the repetitive latin gridded cobbled streets and the rattling over the stones on the fully loaded bike was jarring my patience. 2 hours later I found WiFi at a petrol station and expressed my frustration over WhatsApp. John told me not to worry about it and to keep the money and have a beer on him.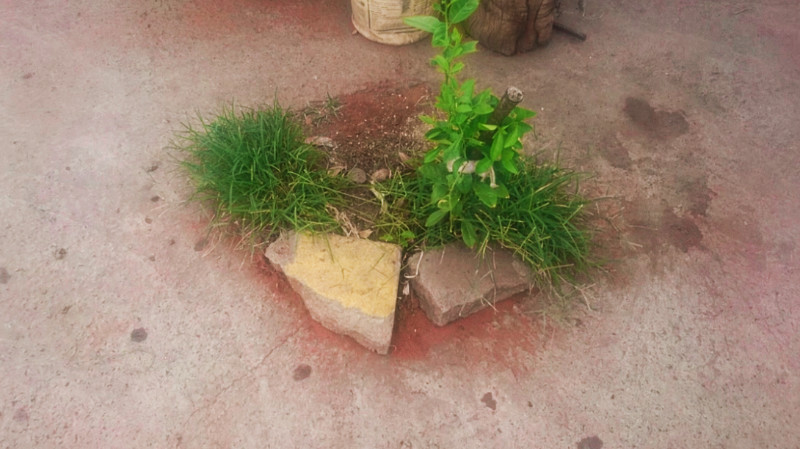 I didn't like the associated feeling of failure and a beer would be scant compensation. Even a case of beer wouldn't help, which this amount would easily cover. I sat for a while looking for a drop zone that wasn't too obvious but would be easy to locate. I noticed a big yellow brick next to a combination barbecue stall and bus stop in front of the big yellow supermarket and slipped the money under that then WhatsApped a video of where it was before setting off to Villa Florida hoping to make camp before dark.
A wrong turn takes me 10 minutes back toward Asuncion. Swearing echoing in my helmet, I use a pedestrian crossing to u-turn the cities dual carriageway south. These moods can be dangerous on a motorcycle so I elevate my caution and moderate my feeling of impatience but allow permission of the swearing session as a kind of meditation. The swearing stops after I pass the junction another ten minutes later and find myself on the usual unfamiliar territory into the unknown and eventually intersect with Ruta 1.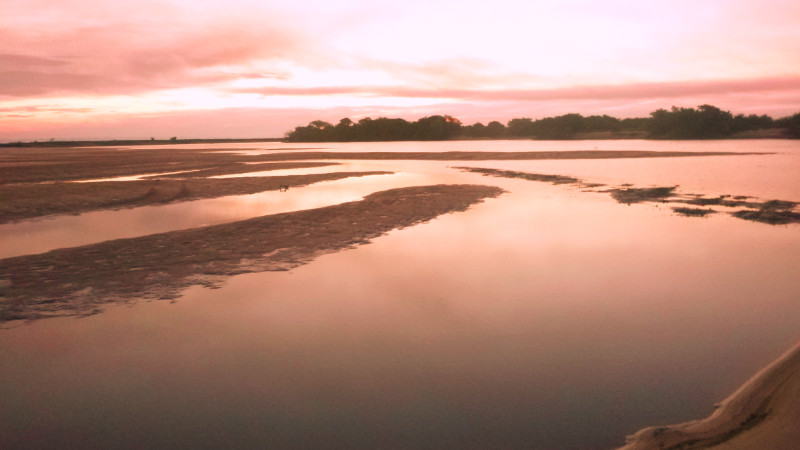 Ruta 1 is fast and tedious and I arrive at Villa Florida with the sun still a hand's width above the horizon. Crossing the bridge over the Tebicuary River, which marks the northern edge of the village, I notice potential camping spots along the northern bank and beaches. There is a Police checkpoint at the southern end of the bridge and I coast through like Obi-wan Kenobi seemingly unnoticed. I would have liked to have checked out the camping spots back over the bridge on the north bank but didn't want to chance another possible two passes through the checkpoint so headed down a side street and west along the south bank instead. The track is wide but has patches of deep soft sand and so, with no-one about, I try the Youtube tip of going fast enough to skim the surface like a "skier over water." The first deep patch triggered a horrendous wobble before the bike plunged to the right and threw me clear. So it was back to paddling along with my feet. The camera in my pocket bruised my thigh when I landed in the sand so this slowly became a painful affair.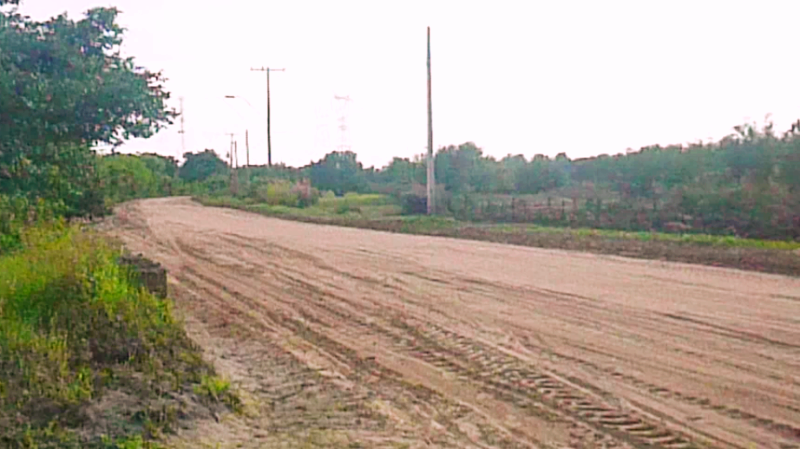 Along the lane, I noticed a gap in the bushes to my right opening out to a grassy area perfect for camping. I pitched the tent around a corner of bushes, invisible from the road and walked down the lane to see where the families were coming from in their bare feet and beach gear.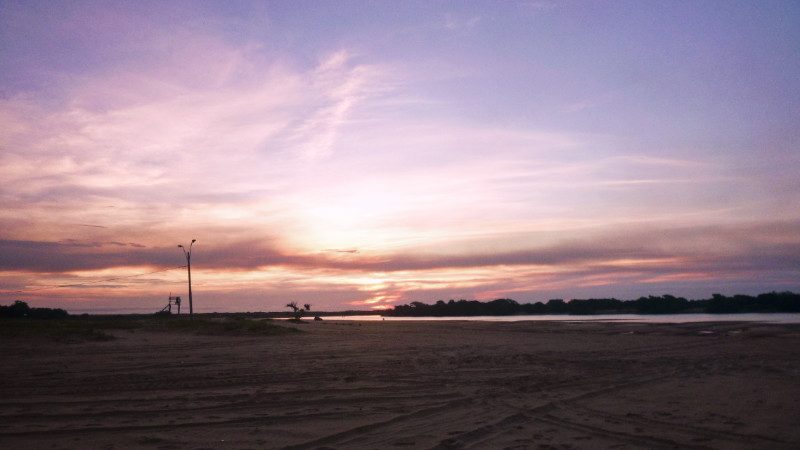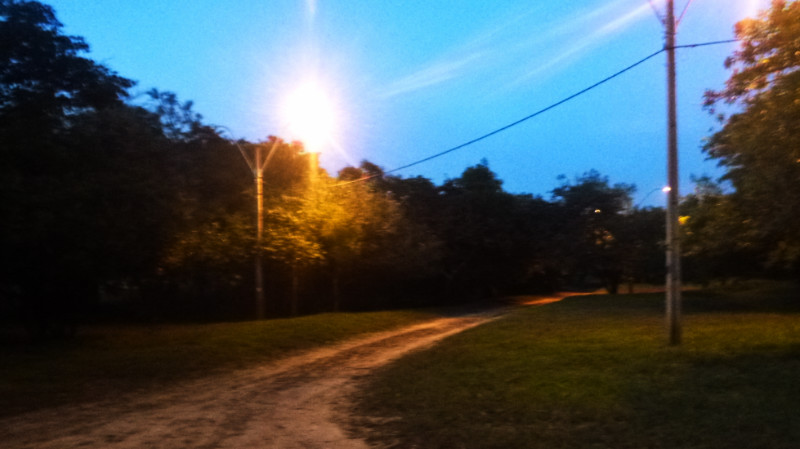 Playa Paraiso, a park on huge sandy beaches worthy of any seaside beach in the UK. I could have camped here but even though there was a huge area, it was busier. I was happy with my hideaway.