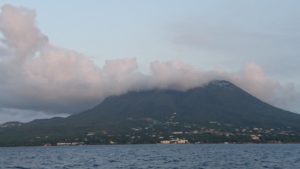 We reached Nevis shortly after sunset and picked the closest mooring ball to shore on the northern edge of the field. These balls had a secondary line attached that we could easily hook, unlike the Martinique balls that you had to wrestle your own line through a steel ring set on the top, while the wind pushes the bow away from the mooring.
We chilled out on Pantelisa with a meal of pasta and created a plan for the evening that we would return at about 10.30 unless we both agreed otherwise. Herbert joked that I would be the one staying out way past midnight and I laughed since no social occasion usually keeps me out that long.
With our plan agreed, we rowed the dinghy ashore. I warned Herbert that the beach was steep and waves would rise suddenly but we easily surfed a swell which deposited us on the sand perfectly and we stepped onto the sand dragging the dinghy up before the next wave came.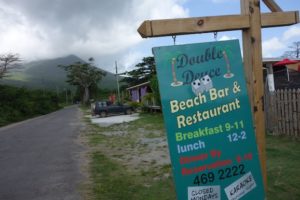 Walking into the Double Deuce, there was an easy atmosphere, not crowded but sociable. I asked if Mark was around. He was. Cooking out the back. I went to say hello and he remembered me and asked me to stay long enough that he could come and talk when the food orders stopped coming in.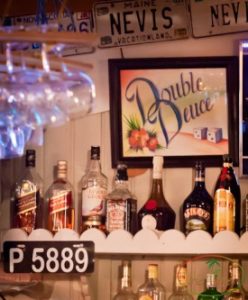 Herbert and I sat at the bar chatting with Expat Nevis residents: sailors that somehow ended up on this volcano protruding out of the sea. We tucked into the El Dorado rum until Mark was free and then had a good catch up.
Mark put me onto a Rival 34 which peaked my interest. A good blue-water boat same length as Glee but GRP instead of steel. Should I own a boat? I'm not sure, but I would like a base to call my own and I know I'm a good skipper now. It sounds ideal.
Herbert kept asking if I was ready but I kept wanting to stay just a bit longer and we headed for the dinghy at 11.50. Pinney's beach was throbbing with drums and rhythm. It seemed like the population of Nevis was all here.
Launching the dinghy into the waves, we catch a big one that Herbert took the brunt of but we were out past the breakers and digging the oars in rowing toward Pantelisa. Halfway there, the Four Seasons Resort's firework display kicked off so we stopped and watched the show reflected in the water from the most perfect position.  When the display stopped, we found we had drifted to within 30 meters of Pantelisa, which was an easy few strokes home.
It was the perfect end to an amazing day, starting off with drizzle and uncertainty and ending in joy and kicking off a whole new year.
I was up just after dawn and Herbert was still sleeping. It was easy for me to slip the mooring in the still morning air and motor out of the mooring field and head for Guadeloupe. Herbert emerged bleary-eyed, surprised that we were moving, on the one hand, grateful for the opportunity to sleep and on the other, feeling left out as a valued member of the crew.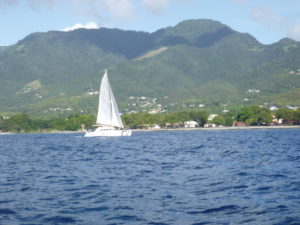 We were hard on the wind beating against the waves bound for Deshaies, a bay I had enjoyed with Susie and Anna on Spirited Lady of Fowey in April. It was hard going, too rough to read, sleep or do much of anything. Montserrat came and went and we coasted into Deshaies at 8pm. There were three boats showing on the AIS. More like thirty in the bay. We cruised around the bay at tickover, there was little wind so plenty of time to pick a spot a safe distance from other vessels. I check the depth. 18 meters. We need at least 4 times the length of chain out as the depth. We have 70 meters and the swing arc for that amount is hard to gauge to the distance to the neighbours. I decide to go further in to find shallower water.
Dropping anchor on a few likely spots resulted in us dragging and pulling up weed. How do people find a holding here? Another attempt was interrupted by a shouting Frenchman waving from the vessel 30 meters astern. "Parlez Vous Anglais?" "Non" as he continues waving. Herbert continues winding in the anchor and says we have a chain on our hook. The French guy is in 18 meters of water so we have at least 36 meters of his chain and possibly anchor hanging off ours.
I try to think while this frantic Frenchman is bellowing incomprehensible communication. I use the snubber line to hook the chain off the anchor but now there is no way to save the snubber as the full weight of his ground tackle is hanging on the line. We drop it in order to silence the frantic Gaul. I should have hooked the head of the anchor and let out the chain and his tackle would have slipped off the end of our hook but I had no head space to work that one out until after the tension was resolved. We were now minus a snubber but on the plus side, no harm was done to crew or vessels.
Last April, I remember a French boat coming into the anchorage when Susie was there having the same problem and retreating to deep water after some verbal abuse. I can understand their problem now. I wouldn't recommend Deshaies to anyone. The holding is poor and harbour overcrowded. If you don't hook a chain, it is likely that someone else will hook yours.
We tried one more time in deep water. Our anchor held briefly but dragged again so we made our exit toward Pigeon Island 9 miles south.
We passed a few fishing buoys so kept a sharp lookout so none would tangle in our prop as we motored through the still night air, what with the day nor wind not really going in our favour. Within a couple of hours, we approached a cluster of mooring lights atop masts swaying gently in the swell. There were a few boats here but there was space and depth was three to four metres into bare sand and good holding. 20 metres of chain was ample and Pantelisa slowed with a soft jolt as the chain became taught and anchor dug in.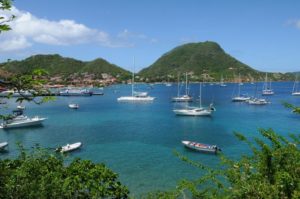 It was 23:30 and a peaceful spot in the heart of the Jacques Cousteau Nature Reserve. Much nicer than Deshaies, although there was nothing nearby apart from a beach bar and a few houses scattered up the hillside. We could have been here by 7 if we'd come directly. Even though it was further, we would have had a better angle to the wind and avoided the stress of ploughing weed and chain out of the seabed at Deshaies.