EL JARDIN SAW guests come and go. Backpackers mainly, European and South American, very few North Americans but all in all, not so many travellers compared to the towns and cities like Cusco on the well-trodden Gringo Trail. As days rolled into weeks, I was beginning to feel more akin to the long term 'residents' at El Jardin: part of the furniture rather than a guest and I could now see that the people I initially assumed to be joyless volunteers were simply being their authentic selves, going with the flow, forgoing a facade even for the sake of professional hospitality.
Living in a hostel isn't so different to actually travelling. Travel by proxy, I'd call it. The flow of social contacts is the same even if the scenery remains the same. Throughout the constant flow, I found it easier to gel with some guests than others. Some enjoy social contact while others prefer solitude. Part of the art of going with the flow is to not bother about the level of connection with 'everybody.' Social contact is abundant. There is no need to make hard work of it: let the closed shells roll by and release the time for the open hearts…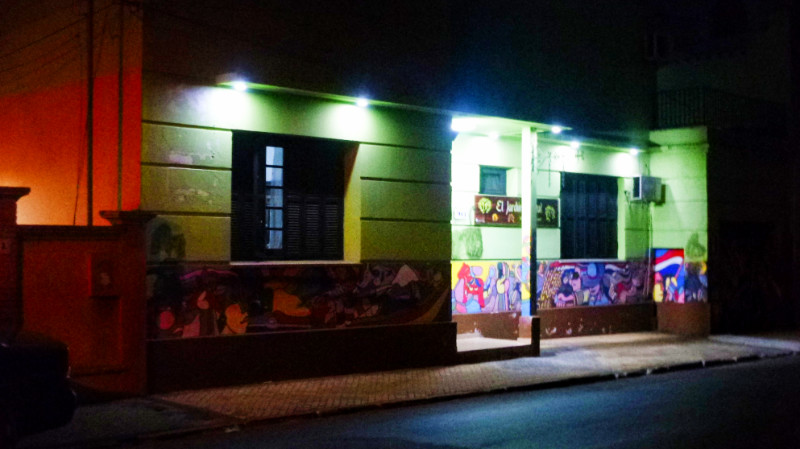 Martin and Nikita arrived at the El Jardin same time; both Dutch but travelling separately. I assumed they were a couple but their simultaneous arrival was pure coincidence. Both were easy for me to relate to and their English was impeccable. I often move invisibly amongst travellers but not so with Martin and Nikita. I'd be on their radar as soon as I was within line of sight. It was an energising and refreshing failure of my invisibility superpower.
Intending to share one beer and the wisdom of Martin, himself a long-term traveller, turned into a relative drinking binge that hung over me like a tempestuous thundercloud the whole of the next sweaty day. That's not usual for me and was an indicator that I was enjoying good company rather than the alcohol.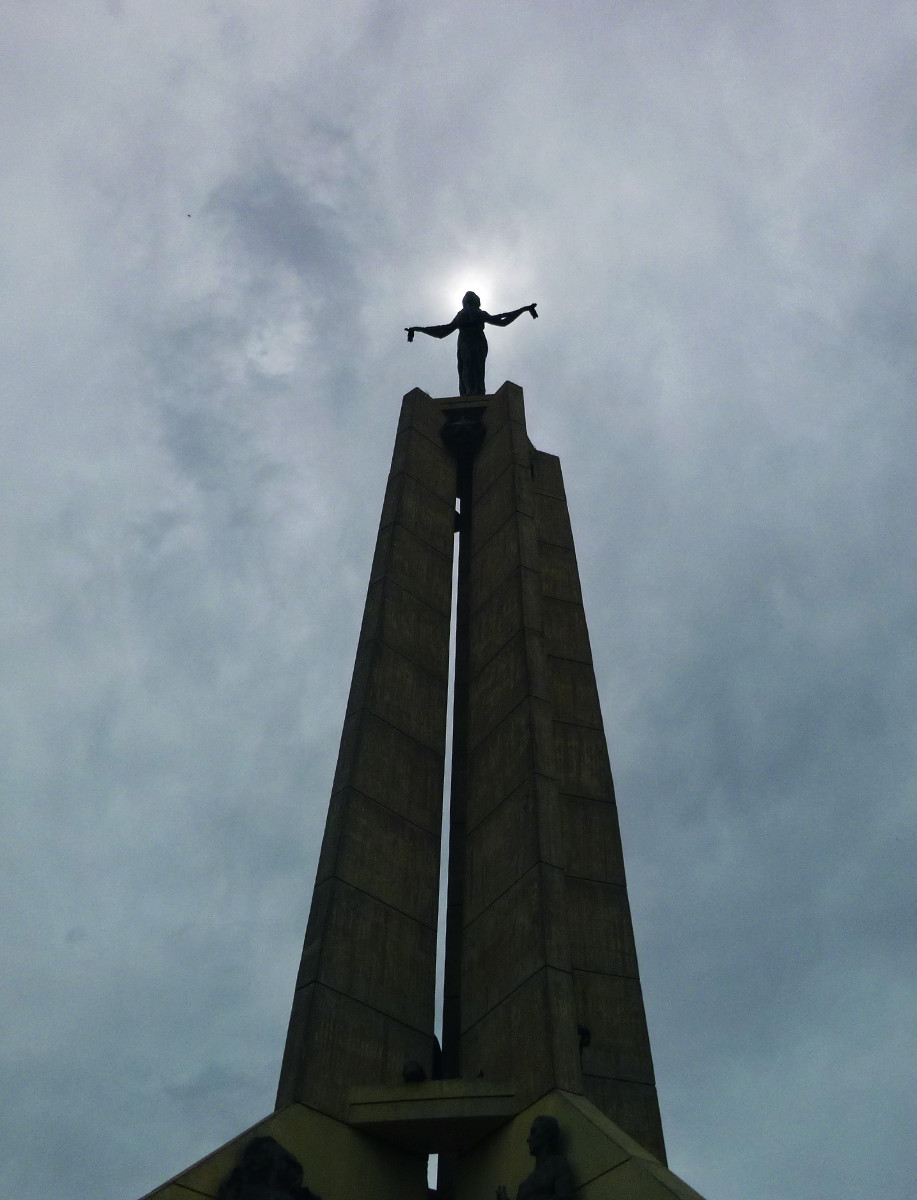 Travel is not only a path of discovery of the world, it is also a path of discovery of the self and the line between the two becomes blurred the further down that path you go. When it comes to 'education.' travel shows you your truth from within – you feel it unfiltered bubbling to the surface like the fresh water of a mountain spring from the hidden depths below. Its source isn't external. It comes naturally from you, stimulated by natural interactions with people, time and action. Schooling, however, brands an external curriculum – the agenda of the state – deep into your soul, conditioning to conform and obey at such an early age that the resulting effects become deeply embedded and difficult to extract and heal the remaining scars. It's only just now, after almost three years of my journey with Life With Glee that I feel my own scars of conditioning beginning to heal, and travel has had a lot to do with that.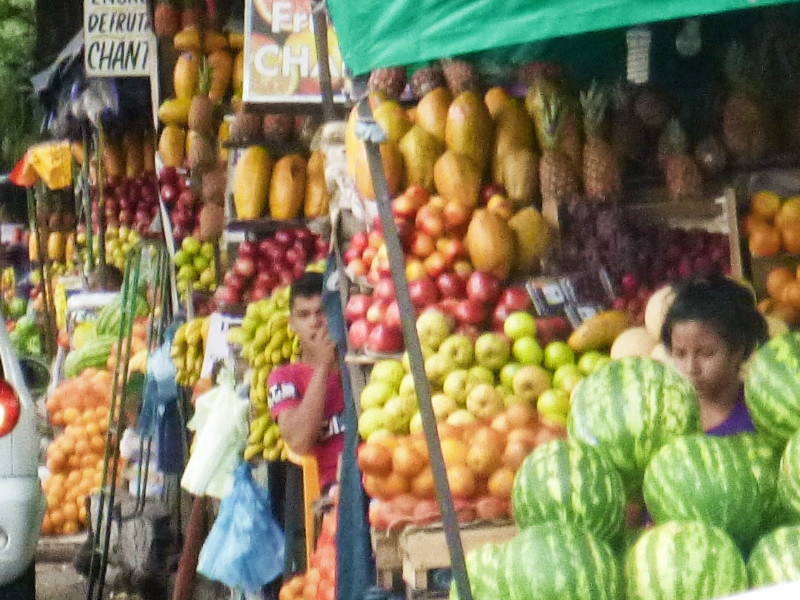 John's friends, Debbie and Cedron from the UK. arrived a couple of weeks into my visit and communication without translation felt effortless. That part of the brain I use for translation could be slipped into neutral and I could coast along the communication highway without having to even think about it. Debbie and Cedron were busy with their own affairs most of the time and diverted some of John's attention but I enjoyed the solitude and opportunity to reflect and write a little plus attend to the increasingly urgent and time-consuming laptop maintenance.
The El Jardin managers, Nonni and Gloria, treated me like family and I felt very much at home, not just in the hostel but at home in the city itself. Asuncion is nothing to write home about as a tourist destination and you could tick the boxes of its attractions in half a day before rushing away for the next tourist hot-spot but that's not what Asuncion is about. Asuncion still has a feeling of humanity and community that seems long gone in the west and it's one of the few cities in the world where I feel I could settle down; probably helped by having been absorbed into John's diverse social circle ranging from families scraping a living in their local communities to Paraguay's eminent musician, composer and conductor, Luis Szaran. I felt a little intimidated attending dinner as John's 'semi invited' guest at Luis' house after witnessing his performance and standing ovation after Bizet's Carmen suite at the Municipal Theatre with the Asunción City Symphonic Orchestra. I have no dress clothes so John donated a smart shirt to make me half decent.
There was no need to worry. There are no class barriers in Paraguay. People are people and interact freely without reservation or pretentiousness. The generosity showed by Luis and his family to me, a total stranger, was heartwarming and underlined my own unconscious class conditioning of growing up in the UK. My history as a Piano Tuner came up in conversation and Luis said there would be a good living to be had in Asuncion. something I hadn't considered for a long time. Piano Tuning in Asuncion? An interesting career opportunity to look at… I'm not yet ready to abandon the path I'm on.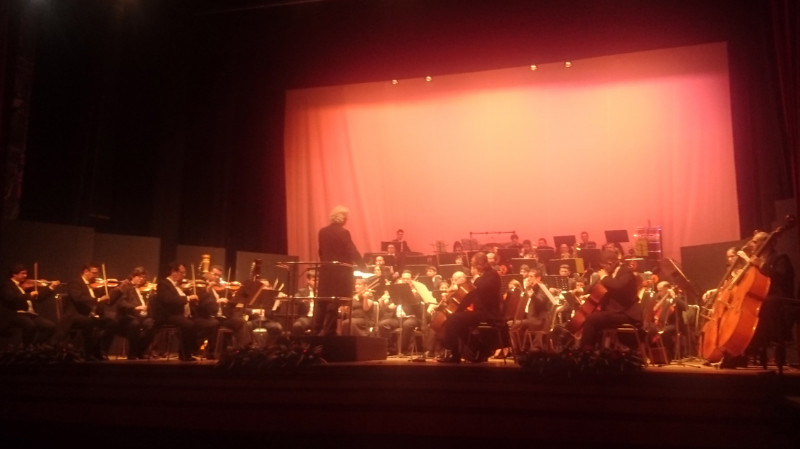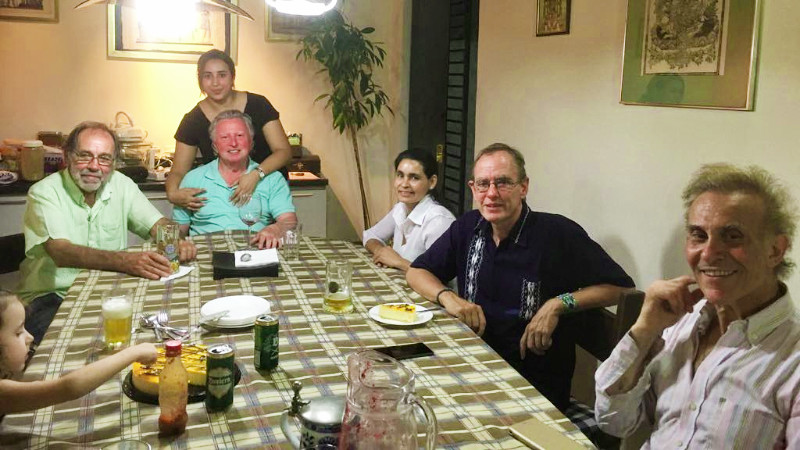 The Roosevelt Library founded on April 12, 1946 by the Centro Cultural Paraguayo Americano (CCPA) 6 blocks away from El Jardin became my cool workspace, since the Air Conditioners would be off at the Hostel during the day even when the temperature was over 100F. I'd commute on foot to the library of a workday, past the plywood shacks that the river flood refugees had erected along the pavements and parks.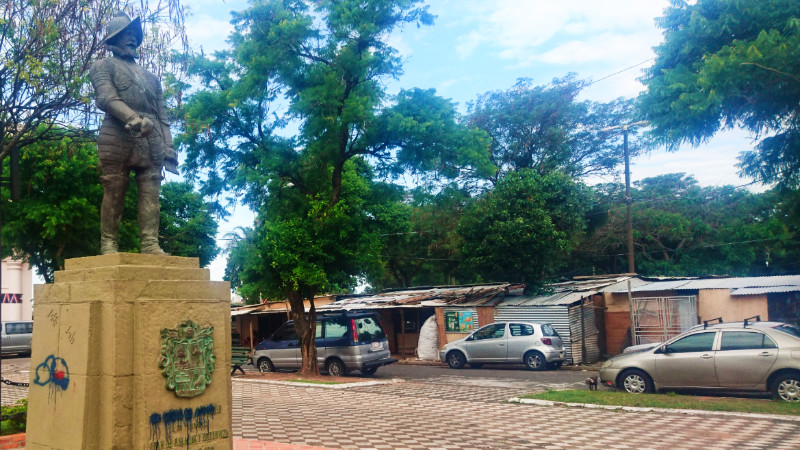 Back in the UK, the 'authorities' would demolish these shelters and kick the refugees down the road, sweeping the problem under the carpet without actually addressing it. Here, the authorities provide water, electric and US Aid portaloos for sanitation. Scattered throughout the city and even around the parliamentary building, these structures provided a stark contrast to the ideas of civilisation, community and humanity at every level.
I found it difficult to set a date for moving on from Asuncion since I was enjoying so much being here. John's three-month visit to Paraguay was coming to an end in December so I set my deadline to leave the Monday after. That gave me time to honour the invitation to the Bruderhof Christmas Carol service and perhaps a final Sunday service.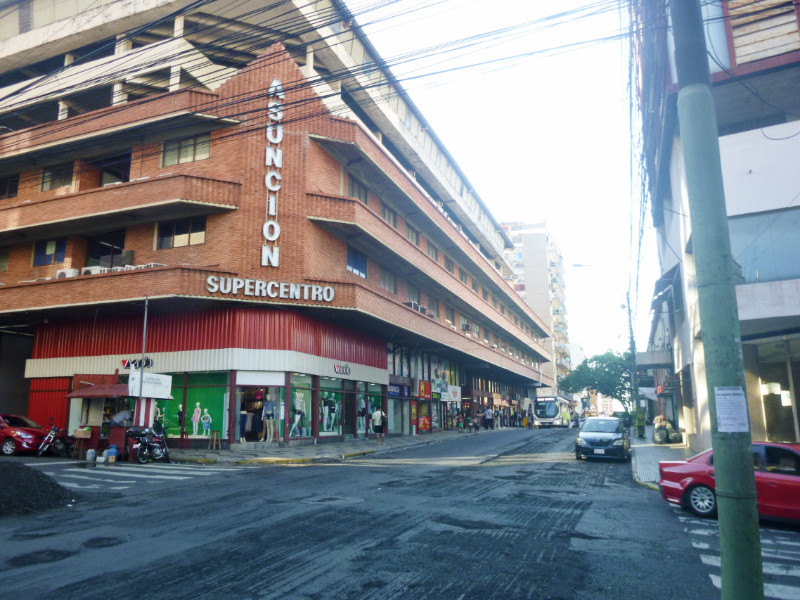 In the end, the initial 5 days at the El Jardin in Asuncion became 5 Weeks. my roots were growing into the social foundation of the Paraguayan capital and my wings of travel were beginning to wither. But circumstances were signalling it was time to take flight again.
I accompanied John to the airport together with Manuel and a few of his friends. Cristobal Pederson brought along an accordion and gave a public musical send-off in the departure terminal before I returned with Manuel to his house and then rode home to El Jardin on the bike feeling that this was the end of a rich and fulfilling chapter…